When people come up to me and ask: "What jazz musicians should I check out?" or "If I want to get into jazz, which musicians are the most important to listen to?", I usually freeze up.
I mean there are so may important jazz musicians out there that it can be hard to pick and choose! Jazz is a music that can be hard to pin down. There are many different styles and eras in the history of jazz that have built the strong legacy this music stands on today.
But jazz has it's set of innovators. There are certain musicians that had profound impacts on the music and the musicians they played with, often altering the course of jazz entirely.
So if someone wants to know what jazz music is all about and get an idea of the big picture, I narrow it down to a handful of iconic musicians that cannot be ignored.
These musicians radically impacted, innovated, and inspired generations of musicians after them.
Without these musicians, jazz music would not be what it is today! So without further to do, here are 6 important jazz musicians that you absolutely need to know:
1. Louis Armstrong.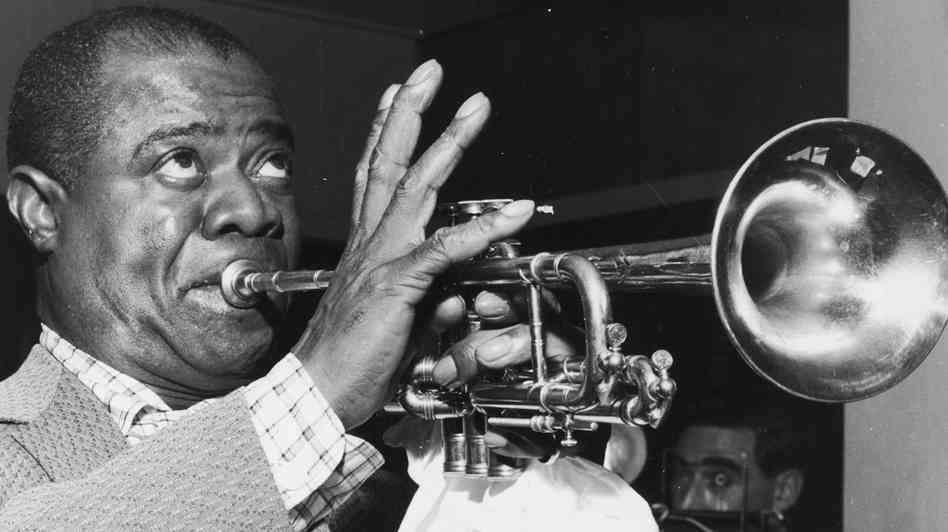 It's safe to say that Louis Armstrong is hands down one of the most important musicians in jazz history.
Nicknamed "Satchmo" or "Pops", Louis is one of the most well known jazz musicians in the world and is responsible for bringing jazz to the spotlight, inspiring many of his contemporaries and musicians to follow.
His infectious personality, gravelly voice, and iconic trumpet sound got everybody's attention.  Armstrong revolutionized the music by making the focus about the individual soloist rather than just collective improvisation and call and response.
That influence is clearly still evident today.  Though it has been said it was done before him, Louis brought scat singing into popularity and paved the way for vocalists such as Ella Fitzgerald.
Between the years of 1925-1928, Louis Armstrong's Hot Five and Hot Seven bands recorded a whopping 55 records!
2. Duke Ellington.
Duke Ellington is one of the most important composers in the history of American music.
He's best known for the over 3,000 songs that he wrote in his lifetime. Some of his most popular compositions include It Don't Mean A Thing (If It Ain't Got That Swing), Mood Indigo, Satin Doll and In A Mellow Tone.
His famous band, The Duke Ellington Orchestra, is arguably one of the most important big bands of the swing era, alongside the Count Basie Orchestra, and Benny Goodman's Orchestra.
Many of his compositions have become part of standard jazz repertoire and are still played today. His compositions, personality, and band made a huge impact on jazz.
3. Charlie Parker and Dizzy Gillespie.
Charlie Parker is one of the most innovative musicians in jazz history and along with trumpeter Dizzy Gillespie, he pioneered "bebop" which is still the common language used in jazz today.
Parker's approach to the music radically changed the way musicians played jazz. His style was technical and fast, yet brilliantly melodic.  Musicians during his time would study his sound religiously in an effort to sound like him.
Musicians such as Cannonball Adderly, Sonny Stitt and Jackie McLean were heavily influenced by Parker, and went on to create legacies of their own.  Charlie Parker and Dizzy Gillespie's pioneering of bebop turned jazz of the swing era, which was geared towards dancing, into a virtuostic music which featured the soloists primarily.
When soldiers came back home from World War 2, many were confused by this new kind of jazz because it wasn't for dancing!  These two musicians as a duo are not to be overlooked.
4. Miles Davis.
Miles Davis is an important musician in jazz for many reasons.
The first thing to note is Miles played a vital role in every era of jazz from the bebop period to fusion.  He played in Charlie Parker's band for a while and took part in the bebop era.
He later formed his own band during the hard bop era, as heard in all of his Prestige records (Cookin', Relaxin', Steamin', Workin'). At the same time, Miles was pioneering modal jazz as heard in songs like So What and Milestones.
He also was one of the only hard bop musicians to take part in the west coast cool jazz scene, such as in his record "Birth of the Cool". He delved in the free jazz scene as well.
Later in his career he was heavily involved in jazz fusion as electronic instruments were coming into the forefront as exemplified on records such as "Bitches Brew" and "In A Silent Way".
Up until his death he was even playing covers of pop songs such as Cyndi Laupers "Time After Time" and Michael Jackson's "Human Nature".  Miles' music was always changing and evolving; a spirit that still carries on into jazz today.
Another aspect of Miles' importance, is he had a unique ability to build bands of young musicians that eventually went on to become important jazz musicians themselves.
John Coltrane, Bill Evans, Cannonball Adderly, Wayne Shorter, Herbie Hancock, Ron Carter, Tony Williams, Keith Jarrett, Chick Corea, and John Scofield are just a few of the musicians that came out of his bands.
He saw potential in young musicians and brought them together with other like-minded players, creating incredible power-house bands.
Of course, Miles Davis was an incredible player in his own rite, with a unique sound that influenced many trumpet players to follow him.
5. John Coltrane. 
John Coltrane has had one of the strongest influences on modern jazz today.
His sound is instantly recognizable and his unique innovations in jazz music easily set him apart from others. Perhaps one of his greatest innovations is what we now call Coltrane Changes.
The most well-know tune that he utilized his changes in is Giant Steps.  His record "A Love Supreme" was one of his most note-able works, an album he called his "masterpiece".
Jazz musicians today are still heavily influenced by Coltrane and his music.  He's one of the most brilliant musicians in the music's history.
6. Ornette Coleman.
Ornette Coleman is an important musician to mention because he was one of the major leaders of the free jazz movement.
He played a plastic saxophone but his sound was powerful and unique. He drew other important musicians to himself such as Charlie Hayden, Don Cherry, and Billy Higgins. His most iconic record was "The Shape of Jazz to Come", a record that made a huge impact on the jazz world.
There are so many more important jazz musicians to mention, but these, in my opinion, are ones that cannot be skipped over. If you are not familiar with these iconic musicians, it's time to start exploring their music.