We offer a lot of things here at Learn Jazz Standards, but in my opinion, the two most important pages on Learn Jazz Standards are the Index of Jazz Standards and the central list of Chord Progression Workouts.
Why? The Index of Jazz Standards is central listing of all the standards we offer. It the the primary mission of the website to help jazz musicians learn jazz standards.
What about the list of Chord Progression Workouts? Why is that so important? Chord Progression Workouts synthesize your knowledge of the fundamentals. If you have a great handle on improvising over basic chord progressions in different keys, then it should be easy to improvise over standards.
This is basically practicing free throws, passing drills, and dribbling a basketball for jazz musicians!
Practicing your scales and Chord Workouts is working on your fundamentals. Any good basketball player will tell you that they get better by practicing their fundamentals. It's the same for jazz musicians!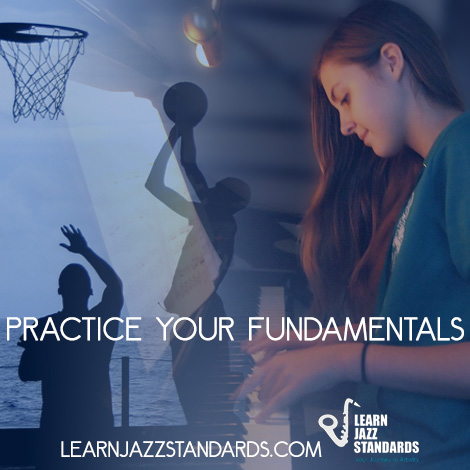 It's very easy to just dive in and work on tunes, but there are many other fundamental things to work out, such as:
Scales
Arpeggios
Long Tones (for horn players)
Sight Reading
Etudes
Transcriptions/Transcribing
Chord Progression Workouts
Original Composition
and Finally:
Jazz Standards
All of it is important! Make a commitment to succeed TODAY! You have to put in the work. No one can do it for you! Invest in yourself by making a commitment to your progress as a musician.