I get asked time to time, who I think the most important jazz guitarists are. This can be a tough question to answer because jazz guitar has had such a rich history of incredible guitar players.
There are so many jazz guitarists that not only were phenomenal players but pushed the envelope of what we thought could be possible on the instrument. Think of players like Joe Pass, Kenny Burrell, Django Reinhardt, Tal Farlow, Grant Green, Herb Ellis, Jimmy Raney and so many others. All of them had a huge impact on jazz guitar and were highly influential. Even today there are guitarists like Kurt Rosenwinkel, John Scofield, Russell Malone, Peter Bernstein, Lage Lund and many others who are influencing a whole new generation of jazz guitarists.
But who are the most important? When asked this question, I narrow it down to 3 guitarist that served as checkpoints in jazz guitar history. These guitarist had pivotal impacts on the direction of jazz guitar, and influenced hundreds of guitarists. Quite simply put, without these guitarists, jazz guitar would not be the same as it is today.
I imagine not all readers will agree, but consider my reasoning:
1. Charlie Christian
Why Charlie Christian? Charlie Christian was really the first note-able guitarist to take the guitar out of the 'rhythm section' role to a soloing instrument. It was record producer and jazz "talent scout" John Hammond who discovered him and introduced him to Benny Goodman to play in his orchestra. Initially Goodman was uninterested, as electric guitar was a newer instrument and guitarists were not recognized as soloists. However, Goodman heard him play and he was sold. Many say that Charlie Christian was one of the most important improvisers in the transition from the swing era to bebop. Sadly, Christian died at the young age of 25, but his impact was huge on jazz guitar. The way he played literally changed the role of jazz guitarists forever.

2. Wes Montgomery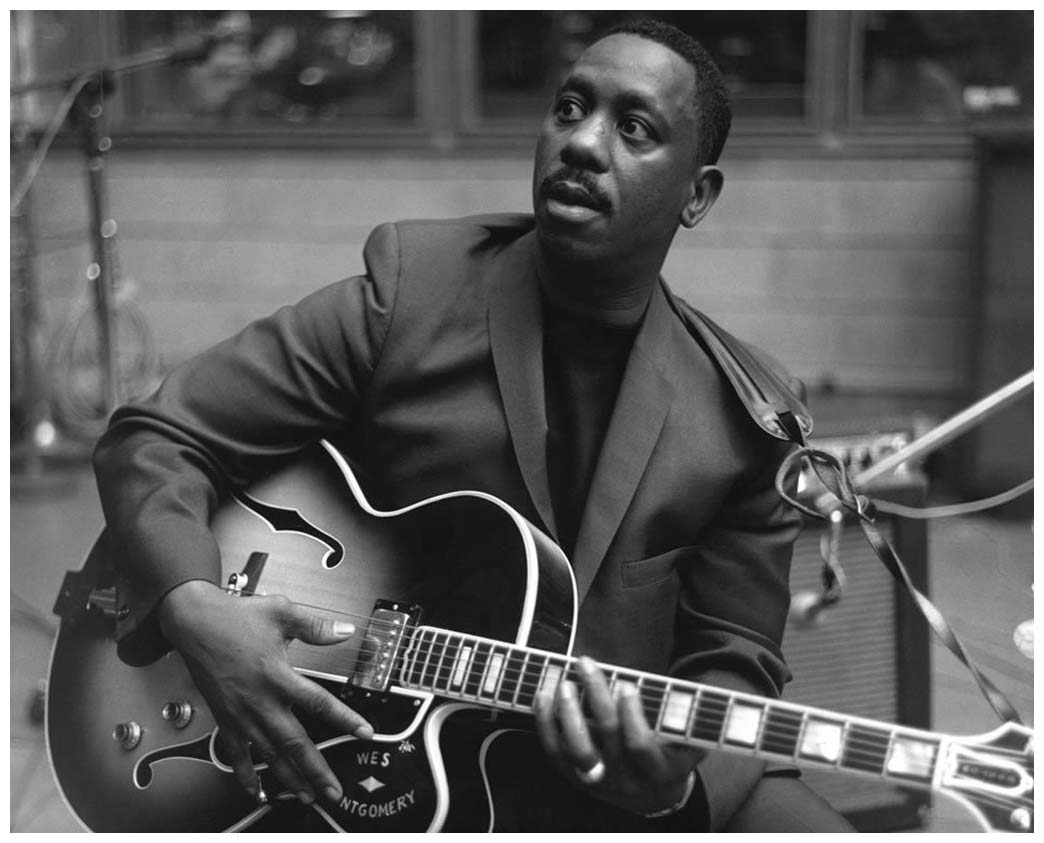 There's really no arguing that Wes Montgomery is one of the most important figures in jazz guitar history. He is easily one of the most influential jazz guitarist, and many great guitarist who came after him would agree. He took the art of jazz guitar as a soloist to the next level. His sound was incredibly original and unique, and his innovations with chordal soloing and octaves were ground breaking. Even John Coltrane had asked Montgomery to join his band, but he continued to lead his own band instead. He also did a lot of work with Hammond B3 organist Jimmy Smith. He also died at a younger age of 45, and one can only wonder how much even more of an impact he could have had.

3. Jim Hall
Jim Hall is one of the most important jazz guitarists of all time because he had immense influence on the state of jazz guitar today. Pat Metheny had this to say about Jim Hall:
"Jim is father of modern jazz guitar to me, he's the guy who invented a conception that has allowed guitar to function in a lot of musical situations that just weren't thought of as a possibility prior to his emergence as a player. He reinvented what the guitar could be as a jazz instrument… Jim transcends the instrument… the meaning behind the notes is what speaks to people."
Jim Hall possessed an original voice on the guitar that transformed how jazz guitar was thought to be played. His sound was warm and often subtle. His lines were heavily informed by melody rather than chops. It was not unintentional that after Sonny Rollins' three year hiatus from recording and performing, he chose Jim Hall to replace a piano on his hit record "The Bridge". Jim Hall mentored many guitarist that are now at the top of the scene today such as Peter Bernstein, Julian Lage, Pat Metheny, and Bill Frisell. Truly, Jim Hall had a massive impact on modern jazz guitar.
To learn more about this author, visit www.brentvaartstra.com.