Welcome to episode 56 of the LJS Podcast where today we are talking about 8 reasons why jazz musicians should shed classical. That's right, classical music. How can classical music help you become a better jazz musician? Special guest Josiah Boornazian gives us the pitch. Listen in!
Listen to episode 56
Enjoy listening to this podcast?
If you get value from the LJS Podcast, help us out by leaving a rating and review on iTunes or your favorite podcast service. Thanks for your help!
In this episode:
Why should jazz musicians practice classical music?
Practicing classical music:
Is a great way to sharpen your fundamental instrumental technique. I've found it's especially fun, challenging, useful, and beneficial to practice music that wasn't written for your instrument because it will force to you to step outside your instrument's comfort zone and address musical challenges in new and interesting ways. For example, cello and violin music often features wider intervallic leaps than I'm used to seeing in most saxophone music, so practicing string music is a great way for me to tackle the challenge of mastering wide intervals.
Will make you a better improviser. A lot of jazz harmonies, melodies, and formal structures are influenced by or derived from classical music, so there are some direct applications of classical music that can help you improve your jazz playing. Also, all the music you listen to and practice ultimately feeds your creative energy and influences your improvisational abilities, so why not reap the benefits of studying some of the greatest, most enduring, powerful, and expressive music of all time (think: Beethoven's 9th, Bach's fugues, Debussy's piano music, Verdi's operas, Stravinsky's ballets, etc.)?
Will improve your sight reading. You can never practice too much sight reading, and the huge repertoire of classical music out there will give you an endless supply of new music to read through to develop and sharpen your reading skills.
Gives you ideas for improvisation and compositions.

While practicing classical, I recommend extracting musical ideas you like and playing them in all 12 keys, in different meters, at different tempos, etc.
Also pay attention to the form and structure of the classical music you play – it can give you great ideas on how to construct your solos and compositions in terms of overall musical architecture

Makes you more versatile musically. The wider variety of music you're comfortable with, the more fun you'll have playing and the more likely you are to be asked to play on gigs and at jam sessions. Classical music is very demanding and covers such a wide spectrum of styles, so practicing a lot of various types of classical music can prepare you for almost any music situation you might find yourself in
Adds variety to your practice routine. A perennial challenge is maintaining variety in your practice regimen so that you stay interested and always feel challenged. Adding classical music to your practice routine can help you keep things fresh musically.
Gives you musical inspiration from outside a jazz context. It's really helpful to have some music that inspires you and gets your creative juices flowing, and it doesn't always have to be jazz. As a matter of fact, the more open you are to learn from and be influenced by any type of music, you more potential you have to grow, learn, innovate, and always be prepared to excel in any musical situation you might find yourself in.
Is a part of the jazz tradition. Even as far back as the traditional New Orleans-jazz era, classical music has influenced jazz musicians. Jelly Roll Morton is just one example – he talked about the vibrant classical and opera music scene that a lot of early Creole jazz musicians participated in in New Orleans around the turn of the 20th Jazz has also been very self-consciously mixed with classical – especially by artists like Duke Ellington, Gunther Schuller, Gil Evans, and Maria Schneider. A lot of great jazzers past and present explored classical music. Just a few quick examples:

There are famous stories that Charlie Parker use to warm up sometimes by playing Claude Debussy's and Igor Stravinsky's music on alto.
John Coltrane and Wayne Shorter used to practice out of a classical cello book together (one story goes that an exercise from this same book inspired Coltrane's "Giant Steps" pattern).
Miles Davis was really into classical, especially Karlheinz Stockhausen and Aram Khachaturian, among others.
Two world-class saxophonists today who immediately come to mind who practice classical music regularly are David Binney and Chris Potter. Wynton Marsalis is also famous for his classical recordings on trumpet in addition to his work in the jazz world.
Important Links:
LJS Inner Circle Membership
Free Guide to learn standards by ear: Learn Jazz Standards the Smart Way
Listen to episode 55: 4 Jazz Chord Progressions You Need to Master
Mentioned in the show
30 Days to Better Jazz Playing eCourse
A 30-day audio eCourse that walks you through focused, goal-oriented practicing, where you will be working on things that actually improve your jazz playing.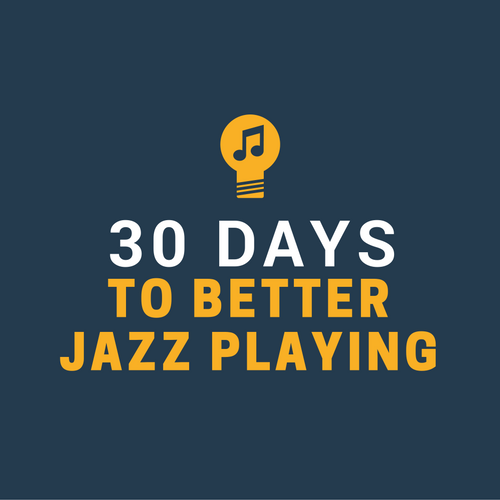 Anything to add to today's show? Leave us a comment below.