The best way to learn any language is to listen to its native speakers. When it comes to understanding the musical language of jazz, there are so many jazz artists you can learn from. This list of the most famous jazz musicians of all time is designed to introduce you to some of them.
The truth is that so many great, creative, and influential jazz musicians have come and gone in the 100+ years since jazz became a thing. Though this list contains 16 of the best jazz musicians of all time, there are many more. Consider this post a solid starting point.
You'll recognize some of them, but others might not be familiar to you.
One thing is for certain, however. All these musicians are among the best jazz musicians you need to know about as a jazz music student. We'll discuss why each of these jazz icons was so influential and provide ample listening recommendations!
If you want to dive deeper into the amazing compositions and recordings of these great jazz musicians and pick apart the aspects of their playing and personalities that made them legends, then you need to check out the Learn Jazz Standards Inner Circle.
When you join the Inner Circle, you'll gain access to over ten years of accumulated jazz education resources, from in-depth jazz standard studies to improvisational masterclasses!
Whether you are a jazz pianist, guitarist, sax player, trumpet player—or whatever—there is an abundance of materials here to help you become the best jazz musician you can be!
What are you waiting for? Come see what the Inner Circle is all about!
Table of Contents
The 16 Best Jazz Musicians Of All Time
The following 16 jazz artists are on this list because of their contributions to the art form. Many on this list span 50-plus years of jazz and are integral to how jazz is performed and received by audiences. "Famous jazz musician" can mean a lot, depending on who's asking.
Famous could refer to popular appeal with general audiences, but it could also mean famous among other jazz musicians in the scene.
This list considers both types of fame. Some of these players you may not have heard of, but each one is undoubtedly famous among their jazz musician peers.
Let's dig in.
1. Louis Armstrong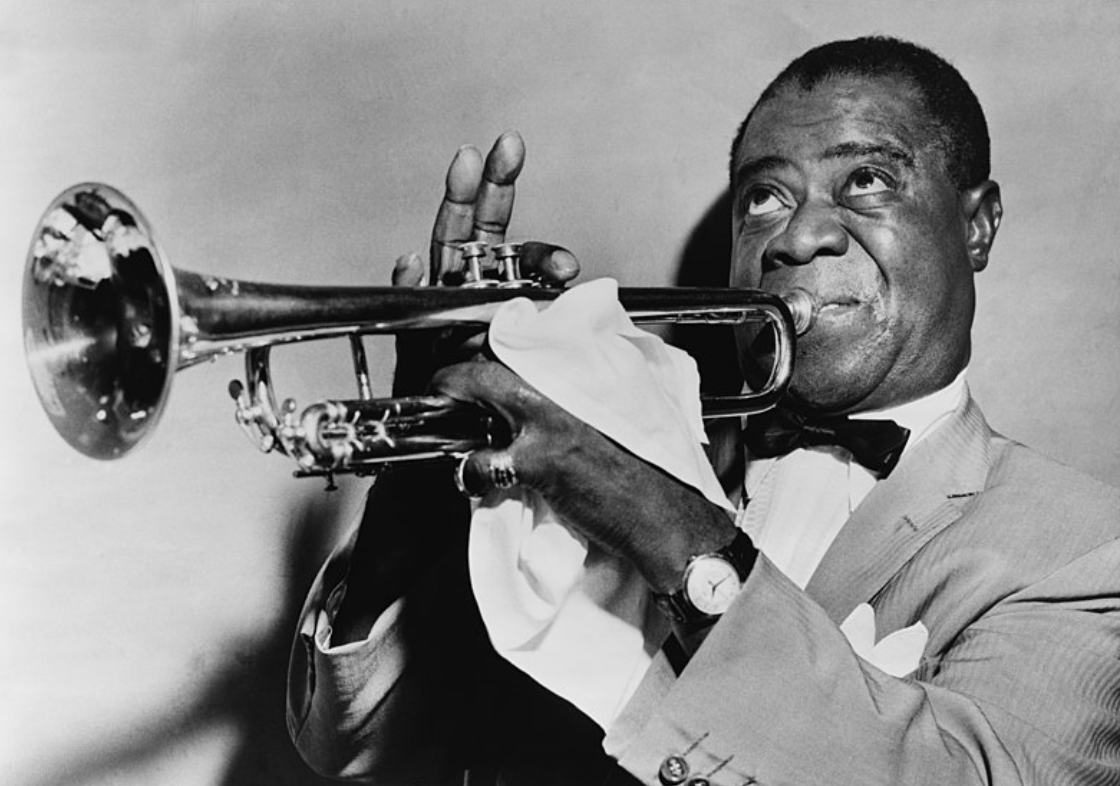 Image Source: https://en.wikipedia.org/wiki/Louis_Armstrong
Louis Armstrong's monumental contributions to jazz music make him one of the most influential jazz musicians to ever live. Referred to as "Pops" or "Satchmo," Armstrong's vibrant spirit and groundbreaking artistry have left an enduring legacy, making him an American icon.
Trailblazing Soloist
Before Armstrong's influence, the jazz played in New Orleans emphasized collective improvisation. Louis, however, brought the soloist to the forefront and highlighted individual expression within the ensemble.
Beyond his musical skills, Armstrong had a charismatic presence and radiant smile, making him a globally endeared figure. He was a musical ambassador and a symbol of joy and resilience.
Distinctive Voice
Armstrong's unique, gravelly vocal quality brought a new sound to jazz singing. His innovative approach to vocals and the early development of scat singing profoundly impacted future jazz vocalists, notably influencing artists like Ella Fitzgerald.
Pioneering Trumpeter
His virtuosic trumpet playing, characterized by its brilliant tone, rhythmic sophistication, and innovative improvisational choices, set the standard for jazz trumpet and continues to inspire players today.
Louis Armstrong was among the first jazz musicians to gain international acclaim, taking jazz from the streets of New Orleans to stages worldwide. His tours in Africa, Europe, and Asia played a pivotal role in globalizing the appeal of jazz.
With songs like" What a Wonderful World," Hello, Dolly!" and "When the Saints Go Marching In," Armstrong not only made significant contributions to the jazz repertoire but also reached the broader pop audience.
Relentless Innovator
Louis Armstrong lived through 50 years of jazz music's evolution! Throughout his long career, Armstrong continually evolved his sound, adapting to different eras of jazz and collaborating with a vast array of musicians, ensuring his music remained relevant and fresh.
2. Duke Ellington
Image Source: https://www.britannica.com/biography/Duke-Ellington
Duke Ellington's approach to music was characterized by elegance, innovation, and a deep connection to the cultural and emotional tapestry of the 20th century. His vast body of swing music is a testament to his genius and continues to inspire generations of musicians and listeners.
Prolific Jazz Composer
Over his lifetime, Duke Ellington wrote more than 3,000 compositions! His works ranged from short ballads to extended suites, all of which showcased his skills as a composer and his orchestra's skills as one of the best big bands in the New York jazz scene.
As the leader of the Duke Ellington Orchestra, he helmed one of the most celebrated and influential big bands in the history of jazz. The big band swing era was saturated with incredible talent, and Duke Ellington was able to stand apart from the competition. His big band orchestra went on to survive the big band swing music era.
Pioneer of Extended Jazz Compositions
While many of his contemporaries focused on short-form compositions, Ellington ventured into longer, more thematic works, such as "Black, Brown, and Beige" and "Such Sweet Thunder," which showcased his ability to tell intricate stories through music.
Ellington had an ear for unusual and sophisticated harmonies. He often utilized unique chord progressions and voicings that distinguished his music from other composers of his time.
Cross-Media Collaborations
Ellington's curiosity led him to collaborate with figures outside the jazz world. He worked with classical composers and choreographers and wrote for film and stage. The Duke also appeared in several Hollywood movies!
Champion of African-American Expression
Through his music, Ellington often aimed to capture the breadth and depth of the African-American experience. He saw jazz as a form of cultural expression and often integrated gospel and blues elements and other forms of black music into his compositions.
Some of his most popular compositions include"It Don't Mean A Thing (If It Ain't Got That Swing)," "Mood Indigo," "Satin Doll," and "In A Mellow Tone."
3. Charlie Parker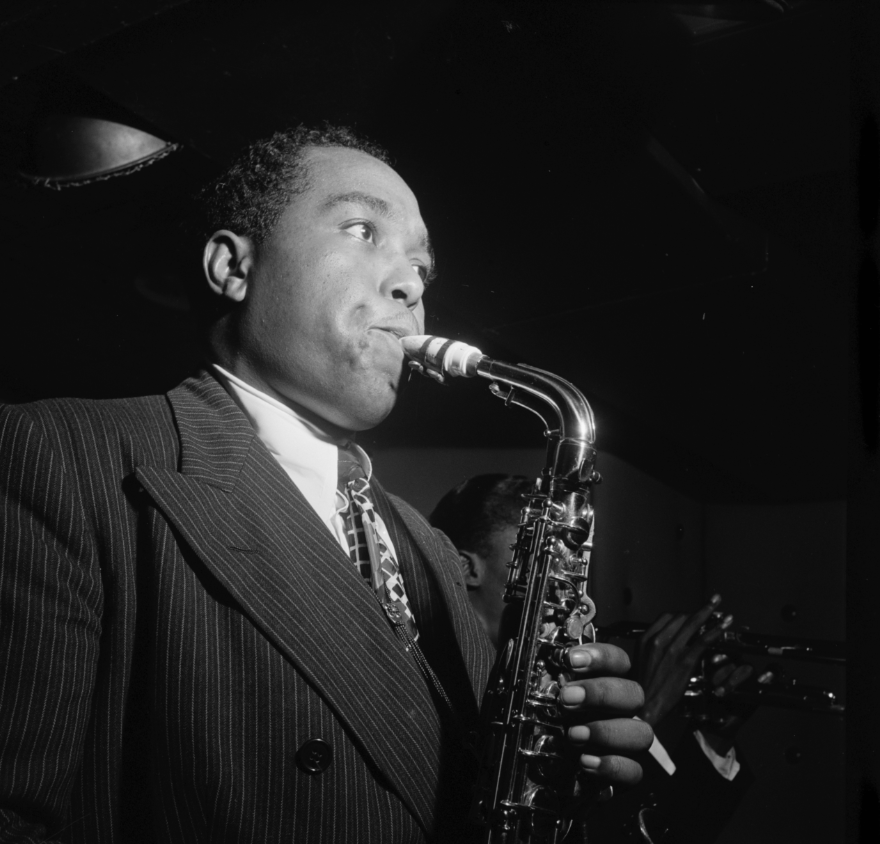 Image Source: https://en.wikipedia.org/wiki/Charlie_Parker
Despite a short music career, Charlie Parker left an unforgettable mark on the jazz scene. This jazz saxophonist redefined jazz improvisation and was partly responsible for a whole new jazz genre—Bebop.
Bebop Pioneer
Often referred to as "Yardbird" or "Bird," Charlie Parker was a leading figure in the development of bebop, a jazz style characterized by fast tempos, virtuosic technique, and advanced harmonies. You can't describe the bebop era without mentioning Charlie Parker.
Parker's unparalleled skill on the alto saxophone was ahead of its time, with lightning-fast phrasing and unique tonal quality. Charlie Parker appeared on some of the most influential recordings in jazz history alongside other titans of the jazz scene, like Dizzy Gillespie, Thelonious Monk, and Max Roach.
Groundbreaking Compositions
Check out some of his influential tunes like "Ornithology," "Anthropology," and "Confirmation," all of which are considered foundational jazz standards.
Enduring Legacy
Even after his untimely death at 34 and relatively short music career, Parker's influence on jazz music persisted. Musicians across genres have cited Parker as a major inspiration. His improvisational style has inspired or influenced every single jazz musician who came after him.
4. Dizzy Gillespie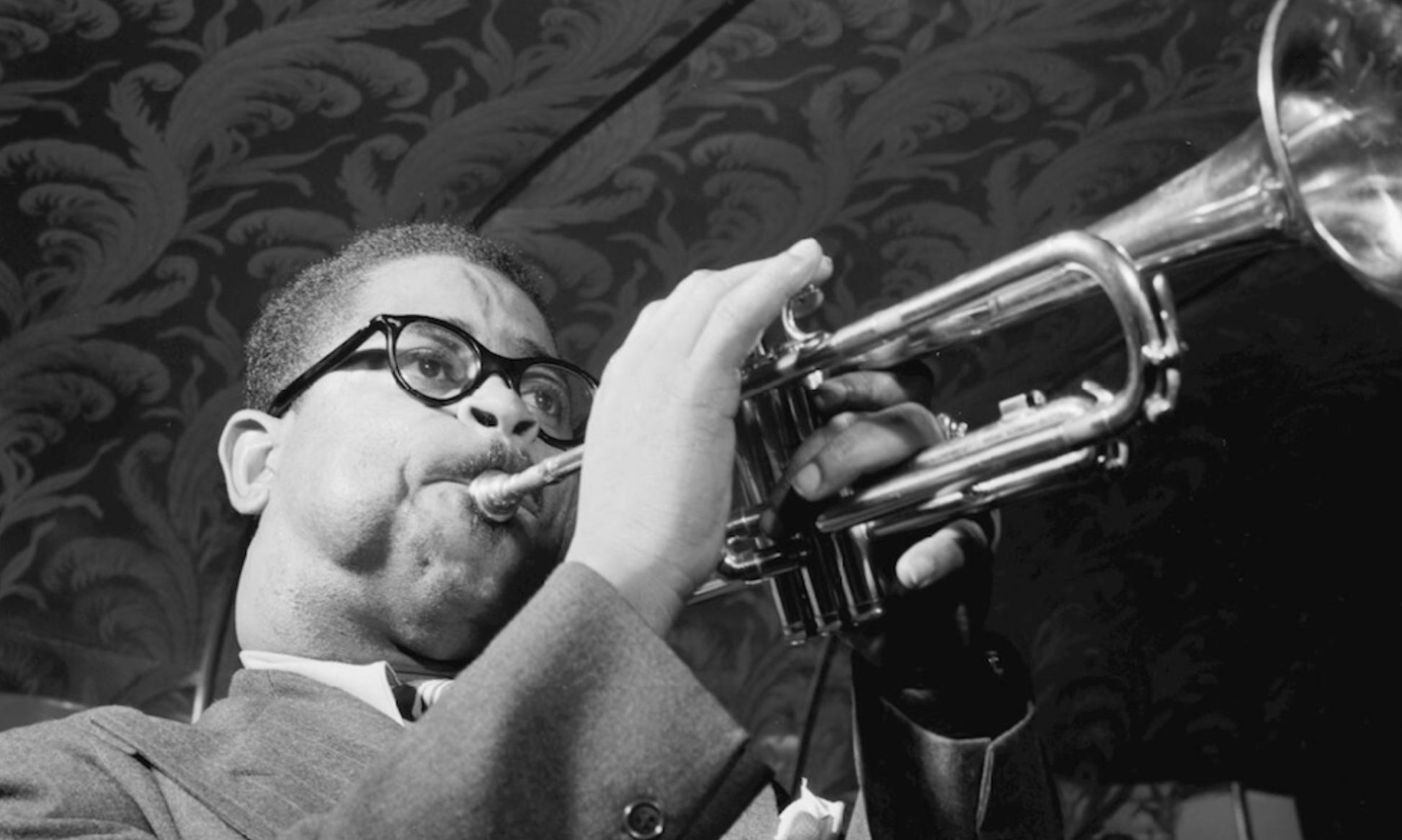 Image Source: https://www.udiscovermusic.com/quizzes/dizzy-gillespie-music-quiz/
Dizzy Gillespie's role as a transformative force in jazz cannot be overstated. His commitment to musical innovation and showmanship has left an enduring legacy on jazz.
Bebop Innovator
Dizzy Gillespie and Charlie Parker were instrumental in pioneering the bebop movement. This jazz style, emphasizing individual identity through improvisation, breathed new life into jazz music after the swing era.
Known for his puffed cheeks and uniquely bent trumpet bell, Gillespie's virtuosic technique, combined with his complex and melodic improvisations, set him apart as one of the best jazz musicians of his era.
Iconic Jazz Composer
Beyond his playing, Gillespie was a prolific composer. Tracks like "A Night in Tunisia," "Manteca," and "Salt Peanuts" have become jazz standards, celebrated and played by generations of musicians.
Global Jazz Ambassador
Gillespie was also instrumental in introducing Afro-Cuban and Caribbean elements to jazz, merging them seamlessly and crafting what would come to be known as Latin jazz. His collaborations with percussionist Chano Pozo were particularly influential in this fusion.
Throughout his career, Gillespie was known for nurturing young talents, including saxophonist John Coltrane and trumpeter Lee Morgan. He was committed to educating the next generation, ensuring the continued vitality of jazz.
Dizzy was more than just a musician on the bandstand—he was an entertainer. His humor, wit, and vibrant personality made him a beloved figure in and out of the jazz community.
5. Miles Davis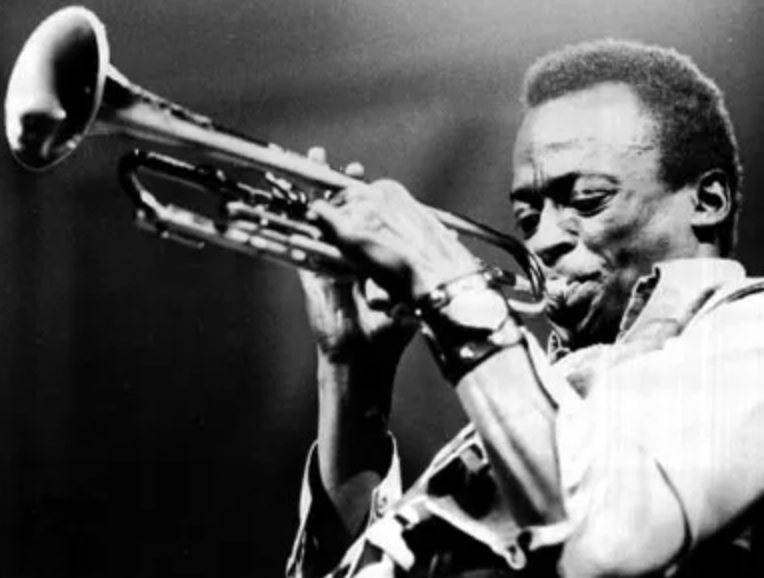 Image Source: https://www.britannica.com/biography/Miles-Davis
Few jazz musicians have broken into the mainstream like Miles Davis.
As a jazz musician, Miles Davis remains a symbol of innovation. He constantly reinvented himself and refused to be defined by any single era or jazz genre. As a band leader, Miles Davis is responsible for discovering and nurturing young jazz talent throughout his career.
Constant Reinvention
Throughout his long career as a jazz artist, Miles was known for being at the forefront of multiple jazz movements, from bebop to fusion. His uncanny ability to reinvent himself musically is unmatched.
In the late 1940s and early 1950s, Davis contributed significantly to the birth of the cool jazz movement, offering a more relaxed and intricate alternative to the fiery bebop of the era. His muted trumpet sound – subdued yet piercingly emotive – is instantly recognizable and has influenced countless trumpet players.
Most Successful Jazz Album Of All Time
With "Kind of Blue," Miles Davis, along with jazz pianist Bill Evans and others, explored modal jazz, leading to the most iconic and best-selling jazz album ever.
Jazz-Rock Fusion Pioneer
In the late 60s and 70s, Davis delved into fusion with albums like "Bitches Brew" and "In a Silent Way," melding jazz with rock, funk, and global rhythms.
Mentor to Jazz Greats
Davis had an eye for young talent. Through the many iterations of his band, the Miles Davis Quintet/Sextet, Davis played with many of the best jazz musicians of all time early in their careers, such as John Coltrane, Herbie Hancock, Wayne Shorter, and Chick Corea.
In his later years, Miles Davis explored collaborations across musical genres, delving into pop, R&B, and even hip-hop influences. He almost made an album with rock guitarist Jimi Hendrix, but Jimmy passed away before they could record it.
6. John Coltrane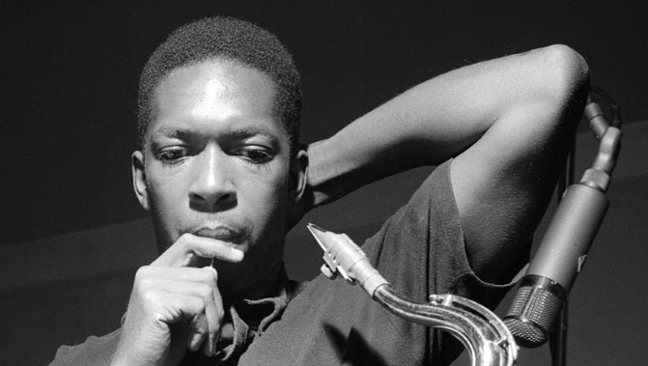 Image Source: https://www.ncmea.net/john-coltrane/
John Coltrane is one of the most sonically recognizable jazz artists of all time.
A true jazz musician among many great jazz musicians on this list, his relentless pursuit of musical and spiritual depth makes him an enduring and revered jazz artist among his fellow jazz musicians and listeners alike.
Artistic Evolution
From bebop to avant-garde, John Coltrane constantly evolved as a jazz musician. He relentlessly pursued his artistic identity as a jazz musician, moving through different phases of musical exploration in a relatively short career that started in the years after World War II and lasted into the 60s.
Coltrane's innovative approach to the saxophone, with his blistering speed, complex patterns, and "sheets of sound," has made him one of the most influential saxophonists in the history of jazz.
Chasing a Higher Power
JohnColtrane's music often feels like a quest for spiritual transcendence, and this is due to Coltrane's strong sense of spirituality. Albums like "A Love Supreme" are not just jazz recordings but profound spiritual statements, reflecting his deep belief in the power of music to connect with the divine.
Harmonic Genius
His unique approach to chord progressions, often dubbed Giant Steps or Coltrane Changes, became a new challenge and standard for aspiring jazz musicians.
Whether playing alongside Miles Davis in the Miles Davis Quintet, Thelonious Monk, or leading his own classic quartet with McCoy Tyner, Jimmy Garrison, and Elvin Jones, Coltrane was part of some of the most iconic groups and recordings in jazz. Whether in a group or as a solo artist, John Coltrane's contributions to jazz music make him one of the most famous jazz musicians of the genre.
Though he passed away at 40, John Coltrane's impact on jazz music is monumental. His profound mix of spirituality, technical mastery, and explorative creativity has influenced countless musicians across genres.
7. Ornette Coleman
Image Source: https://www.theguardian.com/music/2015/jun/11/ornette-coleman
Ornette Coleman's fearless exploration into uncharted musical territories made him one of jazz's most innovative and controversial figures. He expanded the boundaries of what was musically possible, inspiring future generations to challenge conventions and find their unique voice.
Trailblazer of Free Jazz Music
Ornette Coleman's groundbreaking work in the late 1950s and early 1960s catalyzed the Free Jazz movement. His revolutionary ideas about structure and harmony shattered conventions of what jazz could be and paved the way for a new era of improvisational freedom.
Harmolodic Theory
Coleman's "harmolodic" concept blurred the lines between melody, harmony, and rhythm, suggesting they could operate interchangeably. This theory profoundly influenced how musicians approached improvisation and composition.
Iconic Recordings
His 1959 album "The Shape of Jazz to Come" was aptly named, foreseeing the future trajectory of jazz. Albums like "Free Jazz: A Collective Improvisation" took ensemble improvisation to new heights, challenging musicians and listeners.
Defying Tradition
Playing a white plastic saxophone, Coleman's tone was distinctively raw and passionate. His fierce and unorthodox approach to the alto saxophone was immediately recognizable.
Coleman was never content to stay within the boundaries of one genre. Over the years, he collaborated with rock icons, classical music orchestras, and North African musicians, always searching for new musical frontiers
Coleman often faced criticism and skepticism from audiences and fellow musicians but remained undeterred in his vision. His commitment to his art form and willingness to defy tradition made him an iconic figure of artistic integrity.
8. Mary Lou Williams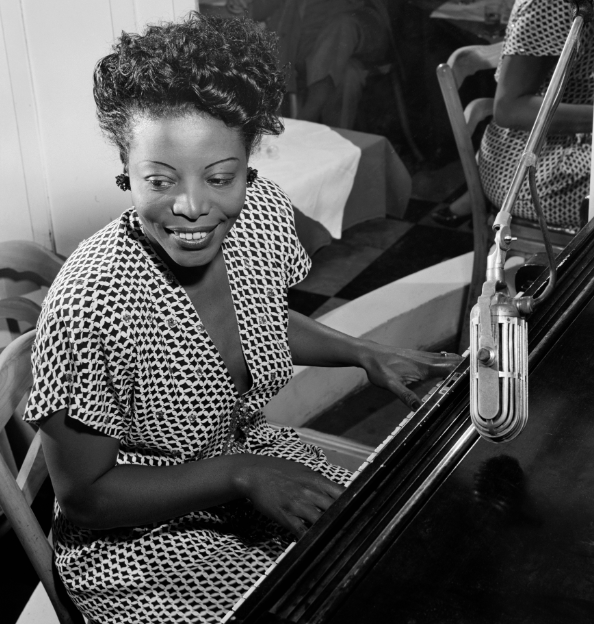 Image Source: https://www.womenshistory.org/education-resources/biographies/mary-lou-williams
Mary Lou Williams, or "The Lady Who Swings the Band," remains an emblematic figure in jazz music. Her lifelong contributions to the genre as a jazz pianist, singer, and composer, combined with her role as a trailblazer for female musicians, ensure her place as one of the great jazz artists of the 20th century.
Versatile Composer and Arranger
From blues to classical music, swing, bebop, and sacred jazz, Mary Lou Williams could adapt and contribute meaningfully to various styles of music. Her compositions and arrangements were sought after by leading bandleaders, solidifying her place as a key architect in the development of jazz.
Trailblazing Female Presence
In an era dominated by male musicians, Williams stood out as a talented jazz pianist and a formidable composer and arranger. Her presence paved the way for future female jazz artists, proving that gender was no barrier to genius.
Mentor to Bebop Innovators
Williams was a central figure during the formation of bebop, mentoring and collaborating with emerging icons like Thelonious Monk, Bud Powell, and Dizzy Gillespie. Her apartment in New York became a hub for these artists to workshop their revolutionary ideas.
In the 1950s, Williams experienced a spiritual reawakening, leading her to fuse jazz with liturgical themes. Works like "MaryLou's Mass" showcased her innovative approach to sacred jazz, exploring the secular and divine boundaries.
Educator and Advocate
Later in life, Williams focused on educating the next generation of jazz musicians. Her dedication to preservation and education led to the establishment of the Mary Lou Williams Foundation, ensuring future artists had access to resources and mentorship.
9. Thelonious Monk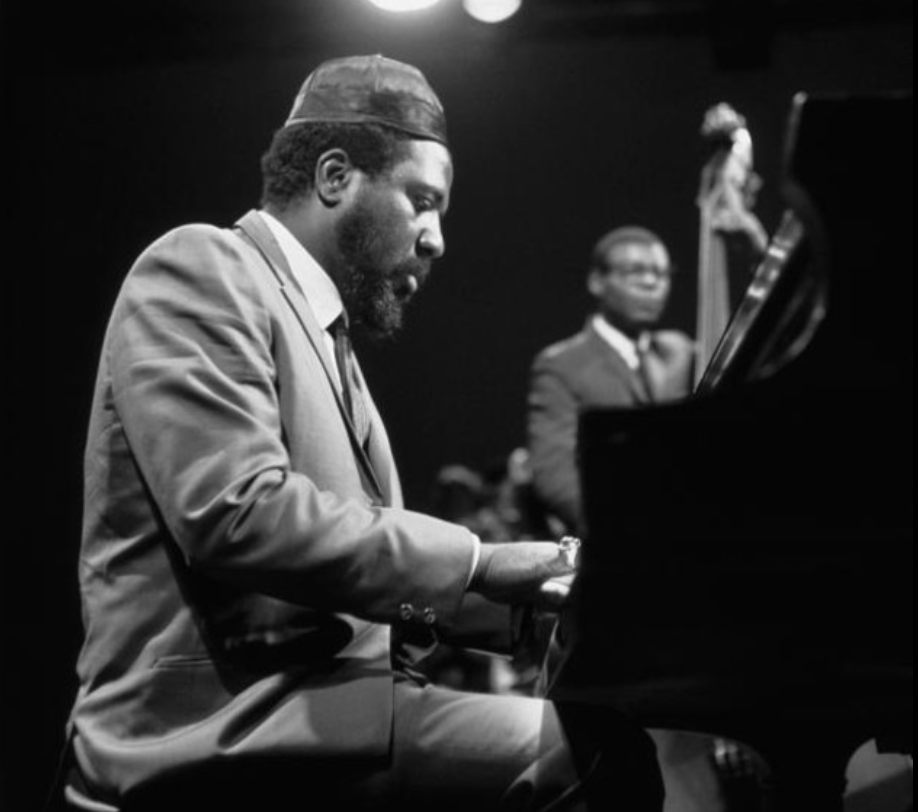 Image Source: https://www.nytimes.com/2020/09/16/arts/music/thelonious-monk-palo-alto.html
Thelonious Monk's unique piano style and unmistakable approach to jazz is one of the genre's most profound contributors. Monk's musical contributions to the Jazz Age and his unique musical personality make him one of the greatest jazz musicians of all time.
Pioneering Composer
Monk's compositions are cornerstones of jazz repertoire. Tunes like"Round Midnight," "Blue Monk," "Straight, No Chaser," and "Well, You Needn't" are jazz staples that have been revisited and reinterpreted by countless musicians over the years.
Unique Playing Style
Monk played piano in an extremely unique way that would leave a mark on jazz rhythm and improvisation. He incorporated a highly percussive attack with unexpected pauses, dissonant harmonies, and angular melodies. His improvisational approach, marked by its idiosyncratic rhythm and inventive use of space, was unlike any of his contemporaries.
Despite his reputation for being enigmatic, Monk played a significant role in mentoring younger musicians. Notably, he had a considerable influence on saxophonist John Coltrane during their collaborations in the late 1950s. Their time together resulted in some legendary recordings and was pivotal in Coltrane's artistic development.
Legacy of Individualism
Monk was a music non-conformist. In an era of rapid innovation in jazz, he remained true to his individual voice. He resisted commercial pressures and never diluted his sound to fit into more mainstream or popular expectations of jazz.
10. Billie Holiday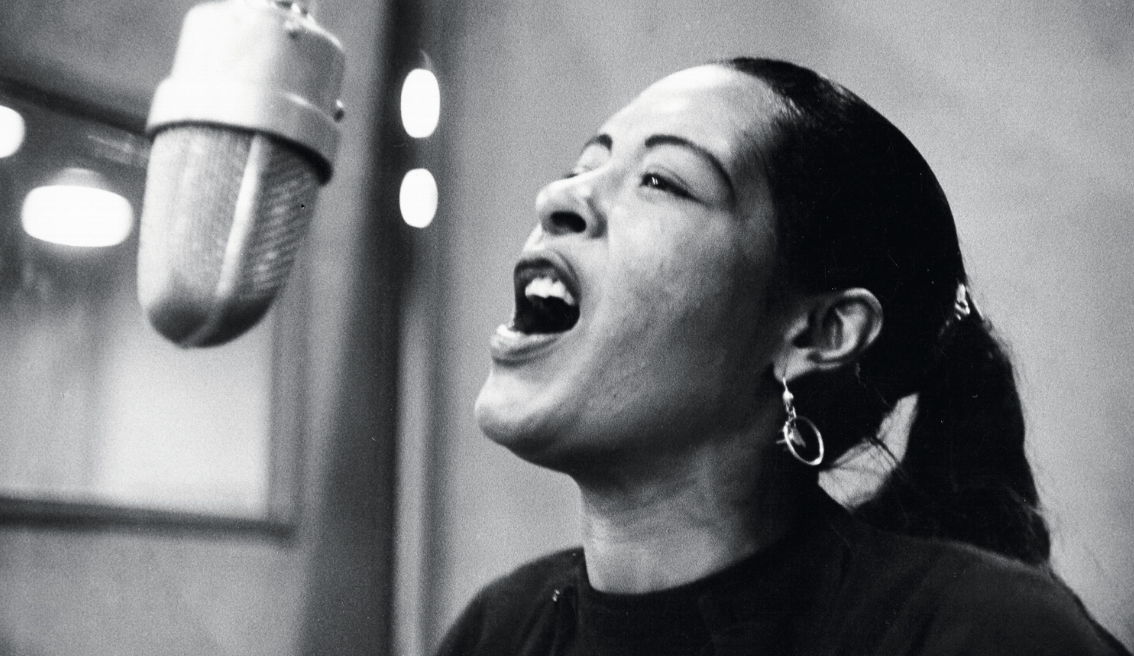 Image Source: https://www.classical-music.com/features/artists/who-is-billie-holiday/
Billie Holiday, known as "Lady Day," remains one of the most influential jazz singers in the world of jazz. Her influence reaches far beyond jazz, with many vocalists citing her as a major influence.
Emotional Depth
With its unique timbre and phrasing, Billie's voice conveyed emotions in a novel way. Whether singing energetic, uptempo tunes or melancholic ballads, she could evoke deep feelings in her listeners, making them feel every word.
Innovative Phrasing
Jazz instrumentalists heavily influenced Holiday's approach to timing and phrasing. She treated her voice like an instrument, weaving through a song like a saxophone or a trumpet, making her a true jazz singer.
Social Commentary
Beyond her artistry, Holiday was unafraid to tackle challenging subjects. Her recording of "Strange Fruit," a poignant song about lynching in the American South, remains one of the most harrowing and politically charged songs in the history of American music.
Jazz Collaborations
Holiday worked with some of the finest jazz musicians of her era, including Lester Young (who gave her the name Lady Day), Teddy Wilson, and Count Basie. These collaborations led to many timeless jazz classics and showcased her ability to blend her voice with instruments seamlessly.
Billie's impact is not limited to jazz singers; her passionate delivery and unique phrasing have influenced countless musicians across various genres. From R&B and soul singers to rock vocalists, many have cited Holiday as a pivotal influence in their approach to singing.
11. Ella Fitzgerald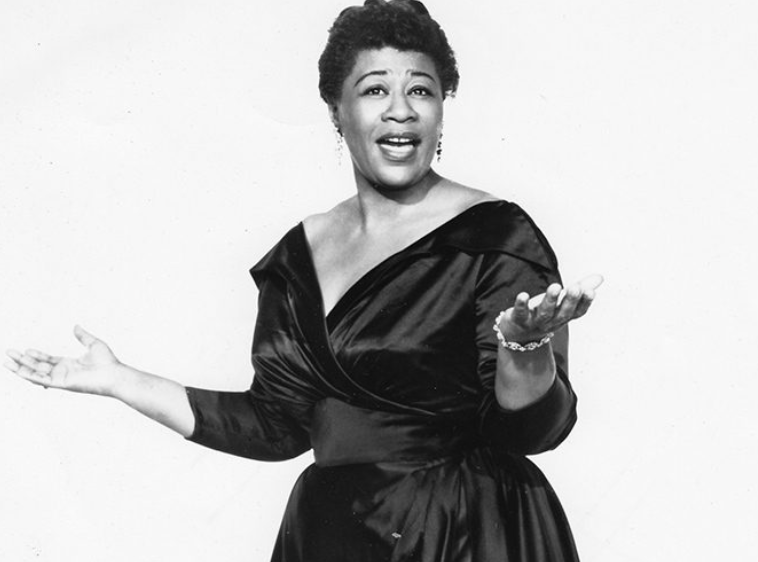 Image Source: https://www.udiscovermusic.com/artist/ella-fitzgerald/
Ella Fitzgerald's luminous voice and impeccable technique make her an instantly recognizable voice in the jazz community. Known as the "First Lady of Song," her contributions to the music are vast.
Vocal Virtuosity
Ella's voice was a marvel of precision, clarity, and warmth. She had an astonishing vocal range and could easily execute complex melodic lines. This allowed her to traverse genres, from sultry ballads to intricate bebop tunes.
Though not the first to use scat singing, Fitzgerald elevated it to an art form. Her ability to use her voice as an instrument, improvising with syllables much like a saxophonist or trumpeter, showcased the depth of her musicality and understanding of jazz.
Songbook Series
Ella's songbook series, where she paid tribute to great American songwriters like Cole Porter, Duke Ellington, and the Gershwins, are considered some of the finest interpretations of the Great American Songbook. These recordings preserved and popularized a vital part of American musical heritage.
During her long solo career, Fitzgerald worked with many jazz icons, such as Louis Armstrong, Duke Ellington, Oscar Peterson, Nat King Cole, and Joe Pass.
Universal Appeal
Though a jazz singer through and through, Ella's music reached audiences far beyond the jazz world. Ella traveled the world throughout her career, introducing international audiences to her jazz singing. Her tours in Europe, Asia, and Africa played a significant role in globalizing the appeal of jazz.
12. Wes Montgomery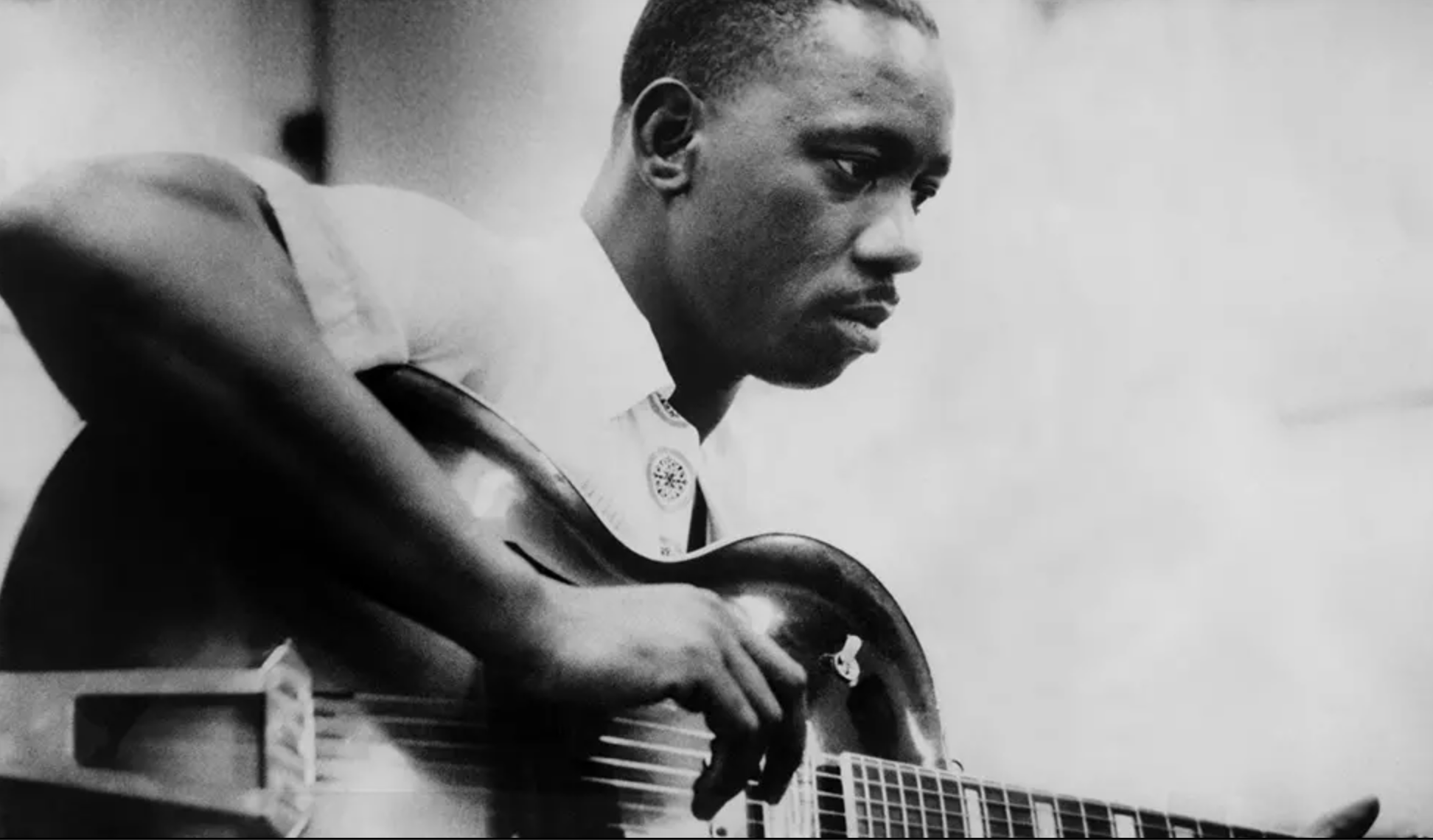 Image Source: https://www.udiscovermusic.com/artist/wes-montgomery/
Wes Montgomery's self-taught style and innovative techniques revolutionized the world of jazz guitar playing. Initially famous for his contributions to the West Coast cool jazz scene, Montgomery's impact would soon transcend jazz music.
Unique Techniques and Innovations
His enormous impact on subsequent generations of guitarists and jazz musicians cannot be overstated. Famously, Montgomery played with his thumb rather than a pick, which gave him a distinct, warm sound.
This unique technique allowed him to execute his iconic octave and block chord solos with clarity and mellowness that was characteristic of his iconic style. Though not the first to use octaves, Montgomery popularized the technique and expanded its role in jazz improvisation.
His solos are instantly recognizable and have become a fundamental method for aspiring jazz guitarists. Montgomery introduced intricate chordal structures and harmonies to guitar playing in novel ways. His approach to chord melodies and soloing has been a model for many guitarists who followed in his footsteps.
Pivotal Recordings
Albums like "The Incredible Jazz Guitar of Wes Montgomery," "Full House," and "Smokin' at the Half Note" are staples for any jazz fan. They not only highlight Montgomery's virtuosity but also his ability to navigate both hard-bop and soul jazz.
Legacy and Influence
In the later stages of his career, Montgomery achieved significant commercial success without compromising his artistic integrity. While more pop-oriented, his later recordings brought jazz improvisation to a broader audience and showcased his adaptability.
Virtually every jazz guitarist that followed Montgomery has been influenced by him in some manner. Newer jazz musicians like Pat Metheny, George Benson, and Russell Malone are just a few who have acknowledged his profound impact on their playing.
13. Art Blakey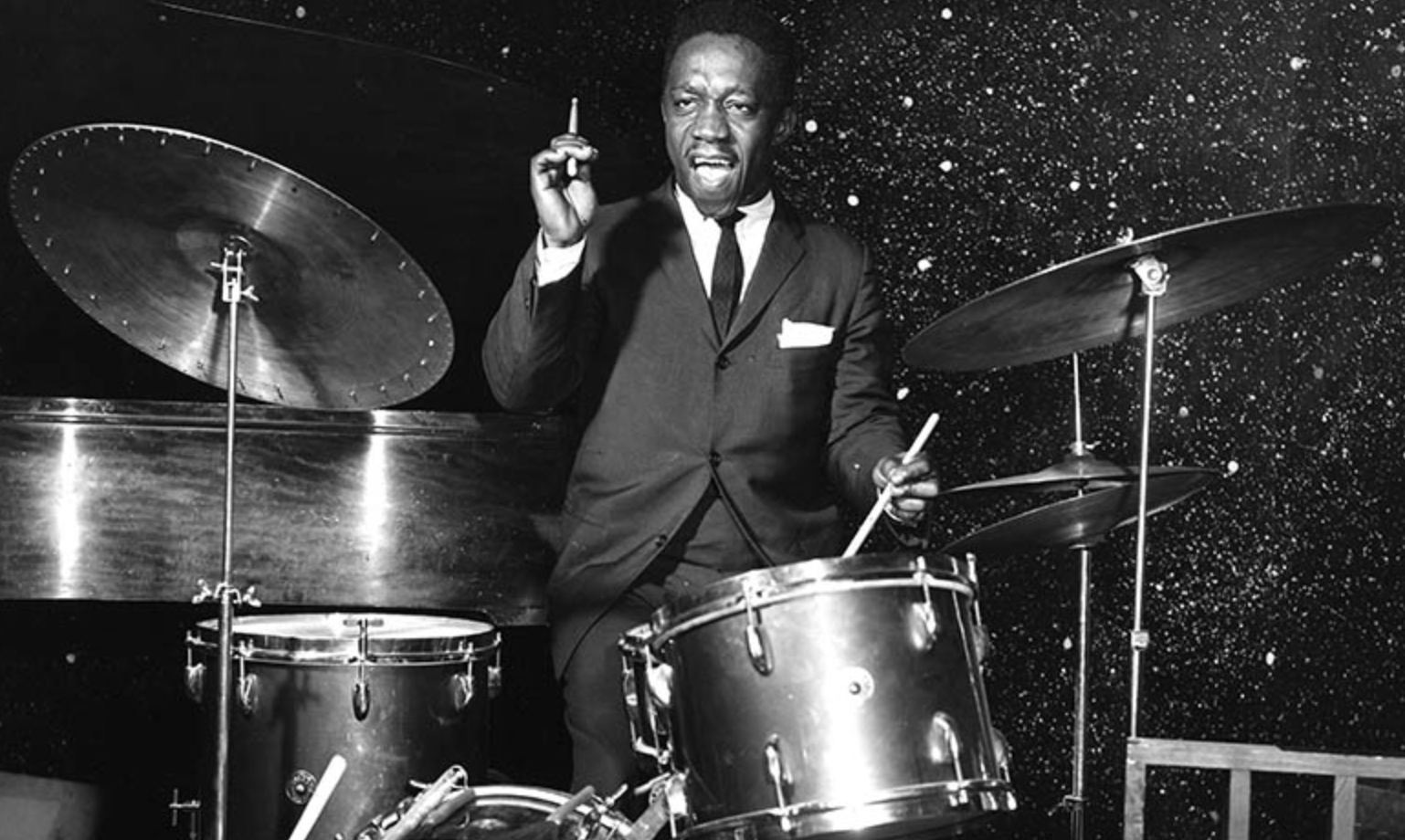 Image Source: https://www.udiscovermusic.com/stories/art-blakey-jazz-messenger-hard-bop-drummer/
Art Blakey's legacy in jazz and jazz drumming is monumental. Through his band, jazz drumming, and mentorship of up-and-coming talent, he shaped the direction of modern jazz.
Art Blakey's Jazz Messengers
Art Blakey co-founded The Jazz Messengers with Horace Silver in the mid-1950s. Though the members changed, Blakey remained a signature member, heading the group for over three decades.
Blakey is also famous for identifying and nurturing young jazz talent. Some alumni of The Jazz Messengers included future jazz legends like Lee Morgan, Wayne Shorter, Freddie Hubbard, Keith Jarrett, Wynton Marsalis, and countless others.
Hard Bop Pioneer
While bebop was characterized by its fast tempos and complex melodies, hard bop, which Blakey helped pioneer, brought in influences from R&B, gospel, and blues. This made it more soulful, rhythmic, and accessible to a broader audience. Albums like"Moanin'" exemplify the hard bop style.
Blakey's discography is far-reaching. Albums such as "A Night at Birdland," "Free for All," and "Ugets" are essential listening for jazz lovers.
Blakey was known for his aggressive, polyrhythmic style of drumming, which featured his signature press rolls and strong swing feel. He no doubt influenced countless drummers who came after him.
Dedication to Acoustic Sound
Even when many jazz musicians were experimenting with electric instruments and fusion elements, Blakey kept moving forward with the acoustic jazz sound, ensuring that the traditional essence of acoustic jazz was preserved and passed on to new generations.
Beyond his musical skills, Blakey was known for his charisma and infectious energy. He was a bona fide mentor, teaching young musicians about the ins and outs of the music business and how to be a band leader.
14. Chet Baker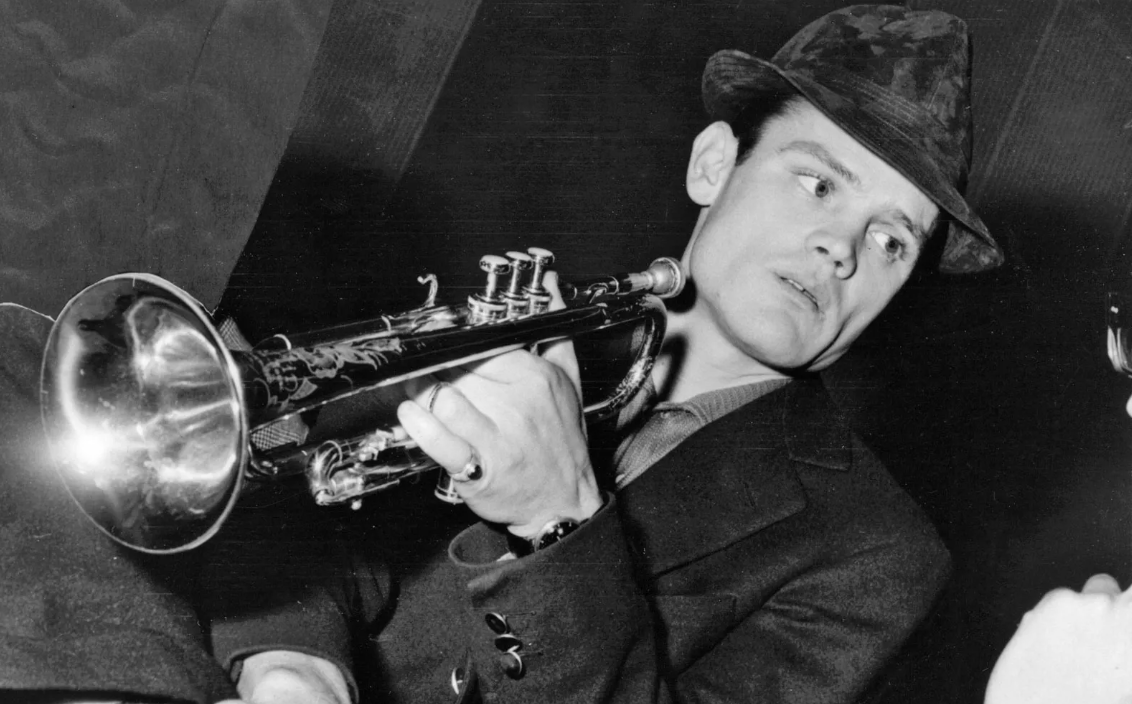 Image Source: https://www.britannica.com/biography/Chet-Baker
Chet Baker's mellow trumpet sound and uniquely haunting vocals left an unforgettable mark on jazz music. His ability to touch listeners' hearts and his fascinating and tragic life story ensure that his legacy will endure for generations.
Embodiment of Cool
Chet Baker was one of the figureheads of the West Coast cool jazz movement in the 1950s. Baker's style, characterized by its relaxed tempos and lighter sound, contrasted with the intense bebop of the East Coast. Baker's soft, lyrical trumpet playing epitomized this genre.
Beyond his trumpet skills, Baker had a unique singing voice—clear, nearly perfect in pitch, and no noticeable vibrato. His renditions of tunes like"My Funny Valentine" and "Let's Get Lost" became iconic and showcased his ability to convey deep emotion with a minimalist approach.
Early in Baker's music career, he partnered with saxophonist Gerry Mulligan to create a novel jazz quartet. Their piano-less quartet was groundbreaking and produced music that was both intricate and accessible.
Troubled Life, Raw Emotion
Baker's addiction struggles and tumultuous life added a layer of depth to his music. The raw emotion, sadness, and vulnerability that infused his playing and singing reflect his tumultuous life.
International Influence
While his career in the U.S. had its ups and downs, Baker found appreciation in Europe. He spent significant time on the continent, especially in Italy, influencing and collaborating with European jazz musicians.
Despite his struggles and complicated life, Chet Baker's music continues to inspire. Young jazz musicians and singers admire his ability to convey emotion with simplicity and purity. His influence extends beyond jazz into pop, rock, and other genres, where his sense of melody and phrasing is often emulated.
15. Sonny Rollins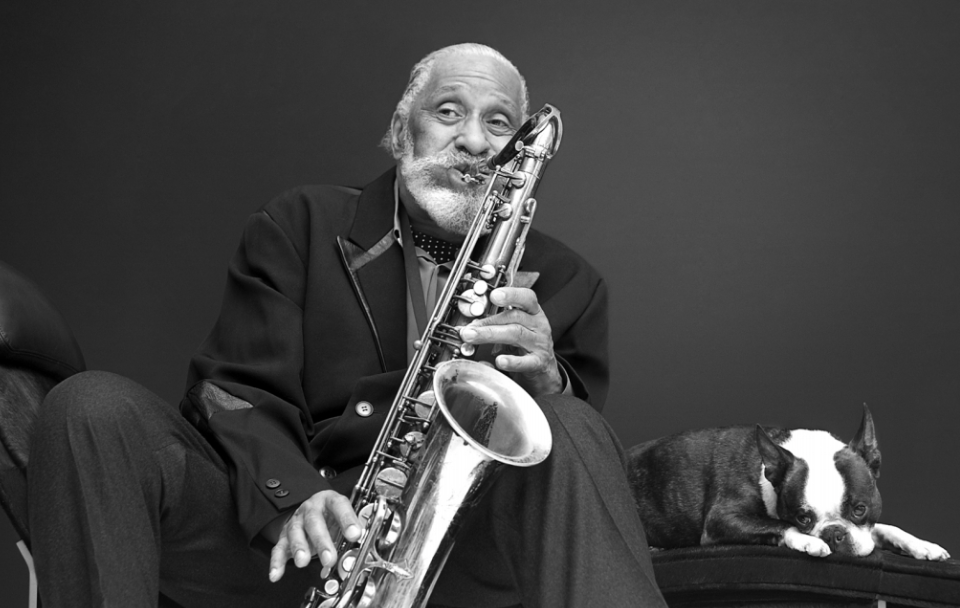 Image Source: https://www.jazziz.com/sonny-rollins-personal-archive-aquired/
Sonny Rollins's career spans multiple decades of jazz music history, each marked by groundbreaking work and timeless recordings. His combination of raw energy, quirky individualism, deep intellect, and one-of-a-kind expression has left its mark on jazz.
Tenor Titan of the Jazz World
Rollins is one of the most dominant figures in the long list of accomplished jazz saxophonists. His robust sound, intricate improvisations, and unique melodic ideas have made him a beacon for saxophonists across generations.
Sonny Rollins has contributed to numerous iconic jazz recordings, both as a leader and as a sideman. His album "Saxophone Colossus," which includes tracks like "St. Thomas" and "Blue 7," continues to be a milestone in the history of jazz recordings.
Bridging Bop and Beyond
Rollins began his music career in the bebop era, playing alongside greats like Thelonious Monk and Miles Davis. However, he would not stop there. Rollins dove head first into various styles, including hard bop, avant-garde, and even integrating Caribbean rhythms into his music as the years went by.
Known for his intense dedication to his craft, Rollins took several hiatuses from public performance to intensely practice and refine his art. One of the most famous was when he practiced on the Williamsburg Bridge in New York not to disturb his neighbors.
This period led to an album titled "The Bridge."
Rollins is renowned for his live performances, often engaging in lengthy solos showcasing his virtuosity and profound musical ideas. His concerts were characterized by spontaneity and a deep connection with the audience.
16. Bill Evans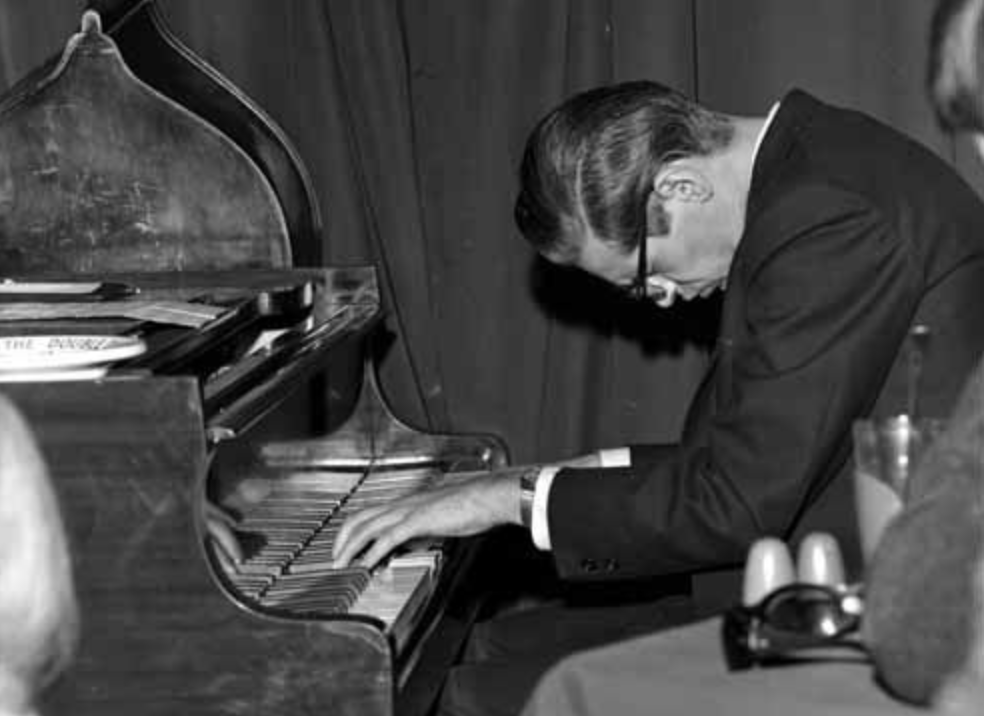 Image Source: https://www.jazziz.com/watch-video-rare-bill-evans-record-came-life/
Modern jazz piano owes everything to Bill Evans. In fact, most modern jazz musicians owe a lot to Bill Evans. With his nuanced touch and profound harmonic understanding, Bill Evans stands apart as one of the pillars of jazz. His work transcends time, evoking emotions that resonate as deeply today as they did when he first performed them.
Intimate Expression and Harmonic Genius
Often described as one of the most sensitive and introspective pianists in jazz history, Bill Evans brought a unique, almost poetic touch to the piano. He revolutionized how the instrument was played in a trio setting, emphasizing interaction, subtlety, and harmonic sophistication.
Evans had an intricate understanding of harmony, pushing its boundaries in jazz. This is evident in his harmonically rich reharmonizations of jazz standards and his exquisite original compositions. Pieces like "Waltz for Debby," "Time Remembered," and "Turn Out the Stars" come to mind as Bill Evans staples.
Influence on Jazz Pianists and Beyond
With the Bill Evans Trio (especially the line-up featuring Scott LaFaro and Paul Motian), Evans transformed the traditional jazz trio into a more interactive group with all instruments participating as equals. Rather than the piano being the primary voice with bass and drums in supporting roles, all three instruments were free to interact and add to the music.
Check out the recordings "Sunday at the Village Vanguard" and "Waltz for Debby" for clear examples.
Apart from his trio work, Bill Evans collaborated with many jazz greats. His album with saxophonist Cannonball Adderley, "Know What I Mean?" is a notable example. However, his work with trumpeter Miles Davis on the classic jazz album "Kind of Blue" is perhaps the most celebrated, particularly his contribution to "Blue in Green."
Evans' life was filled with personal struggles, including battles with drug addiction. However, his music remained an outlet for deep emotional and intellectual exploration through all his challenges.
There are so many more important jazz musicians to mention, but these cannot be skipped over. If you are unfamiliar with these iconic musicians, it's time to explore their music!
Become One Of The Best Jazz Musicians You Can Be. Join the Learn Jazz Standards Inner Circle!
Feeling inspired by this list of jazz greats? Are you looking for a comprehensive and structured approach to mastering jazz music so you can become the best jazz player you can be?
If your answers are yes and yes, then you've got to check out the Learn Jazz Standards Inner Circle.
What are you waiting for? Come see what we're all about!