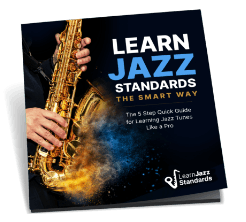 Every year, thousands of music students eagerly pack their bags, relieved to have survived those treacherous high school years, and head off to college to pursue their musical dreams. It seems to be the societal norm in many parts of the world to secure the coveted bachelor degree after secondary school, and so for these young jazz musicians this can be the fight or flight decision: Pursue music as a career, or music as a hobby? Become a pro jazz musician, or become a lawyer? Some will conclude that it's just not worth the risk, but for the die-hards, there is no choice. Of course, there are also many prospective students who may be older and have already established themselves in a different career, but can't help but remember the ever-nagging jazz career dream they've always had.
When I was ten years old, I knew I wanted to be a musician. The minute I got my first guitar all of those child-hood dreams of being an astronaut or an acrobat washed away. I wanted to be a rock star! When I was in high school, I played in the jazz band and became fascinated with jazz music, but by the time I was eighteen, there was no doubt in my mind that this was it; I would become a jazz musician or die trying.
I didn't go to college right away. I practiced and studied with my teacher for a year, taught private lessons and hustled gigs to save up enough dough to afford music school. When that year was up, I was finally ready. I had auditioned for all of my dream schools: Berklee College of Music, New School for Jazz, and Cornish College of the Arts, among others. I was accepted to all of them, but decided to attend Cornish College of the Arts in Seattle, Washington.
I enjoyed the conservatory experience at Cornish, and got to study with some amazing Pacific-Northwest greats such as bassist Chuck Deardorf and guitarist Dave Peterson. Cornish was an excellent school, however at the end of that first year, the ol' pocket book was running low and my heart had always been set on studying in New York City. I transferred to the City College of New York where I had the privilege of taking classes with John Patitucci, Mike Holober, Dan Carillo, Vic Juris, Steve Cardenas, and Scott Reeves. After 4 ½ monumental years, I had finally attained my Bachelor of Fine Arts in Jazz Performance from the City College.
When I started my college journey I had certain expectations. By the time it was up, I realized that going to college for jazz was different than I expected. It's not that college failed to meet my expectations, it's that my expectations were perhaps unrealistic or misinformed.
I want to make this clear: My intentions in writing this article are not to deter or discourage anyone from going to college to get a jazz degree. I did it, enjoyed every minute of it, and wouldn't trade that time of my life for anything! My intentions are also not to support the idea that you must go to college to become a professional jazz musician. You don't need a degree if you want to make a living gigging and teaching private lessons. Practically none of the jazz greats had one. My intentions are simply to state the facts about jazz degrees and shed some light on how to make the most out of your experience. So if you are still with me, read on!
What a Jazz Performance degree will get you:
If you are planning to go to college to study jazz specifically, you are most likely trying to attain a Bachelor of Fine Arts in Jazz Performance. Depending on the school, this degree will have different requirements, but most likely you will be placed in combos, take private lessons, theory courses, ear training courses, and have to perform regularly. Before paying your first tuition bill, it's important to know what this degree will qualify you for when it is completed. The honest truth is it doesn't give you a lot, but you will be:
Eligible to apply for Master's programs to further your education
Eligible to get a Teaching Certificate
If you are hoping to become a professor at a college one day, you need to get your Master's degree. If you want to teach music at an elementary school or high school, you will need to get a Teaching Certificate. I'm not sure how it works internationally, but in the U.S most states require a Bachelor's degree to become a certified music teacher. However, if you aspire to become a music teacher it would make a lot more sense to get an Education degree, rather than a Jazz Performance degree.
Jazz Performance degrees are really best suited for those who want to pursue the art of performing, hone their skills, and increase their knowledge in jazz. As far as teaching goes, having a BFA in Jazz Performance will look good on your résumé if you are trying to get into a private lessons studio, but it does not qualify you to teach at an institution.
Which school should you go to?
The answer to this is very subjective. There is not one right answer for everybody, just for you. Your motives, goals, and personal life should play a huge part in this decision. I moved to New York City because it's the jazz capitol of the world, and the jazz scene here is vibrant. It has proved to be a great motivator and has pushed me to work hard. I've learned a lot from being immersed in NYC's competitive environment, however I fully realize it is not for everyone. Some people are not acclimated to big cities, and may learn better in calmer environments. You don't need to do what I did and move to New York; there are plenty of great places to get an education! Here are some questions you should ask yourself when looking at schools:
Is there a teacher I really want to study with on faculty? (Important!)
Does the city have a good jazz scene that I can immerse myself in? (Important!)
Does the school's program have a good reputation? Has anyone suggested it to me? (Important!)
Will the students there push me further in my music? Do they share my same vision? (Important!)
Will the school accommodate my financial situation? (Really Important! Which leads me to the next point…)
Watch out for debt.
Everybody has different financial situations. Some people are fortunate to not have to worry about money as much, and therefore may have no problem going to a really expensive school without a scholarship. Others have a very limited budget and therefore must be careful about how much money they spend on education. Either way, we need to have a harsh reality check: jazz is not a huge breadwinner! I hate to break it to everybody who thought they were going to be making millions off of jazz, but most likely, you won't. You can make a living, but keep in mind that your career choice typically doesn't share the same salary as a doctor. You can go in debt up to your eyeballs going to your "dream school", but remember when you get out you have to pay all of that back. You have to be mindful of what your income will look like when you are done school. This is why the City College of New York was so attractive to me: It's a state-funded school (so it wasn't too expensive,) but I loved who was on faculty, I loved the scene I'd be immersed in, and I could study with some of my favorite musicians. Don't dig yourself a hole you can't get out of!
How to make the most of your time in music school:
While I was in college, I noticed that a lot of students were feeding into a certain lie. It was this attitude that since I'm going to music school, I'm going to come out of here in 4 years a super bad-ass player and get lots of work. Unfortunately, this is simply not true. Just being in college doesn't guarantee you success. You get out what you put in. I saw a lot students slacking off, not working on their craft, but still expecting to be rewarded at the end. Music school will provide you information and opportunities to pursue excellence on your instrument, but it will not give you a free ride: you have to put in a lot of hard work.
Want to make the most out of your time in music school? Practice. Practice everything your teachers tell you to practice. Do all of your homework. This is different than your high school math class; you should actually care about this stuff! Set up jam sessions with your classmates as often as possible. Build relationships with them. You may go on to build a career with them, and at the very least you'll make life-long friends! Ask your professors questions, hopefully befriend them, and don't hesitate to pick their brains! Get involved in the scene outside of your school and go to jam sessions. Playing the music all the time is the real education. Go to jazz shows as much as possible! Immerse yourself in the music of your musical heroes, for these are the people you aspire to be! Try to score some gigs as soon as you can; don't wait until after college to start your career. Do all of this, and I'm sure you'll do just fine. Work hard, and don't forget to enjoy the ride!