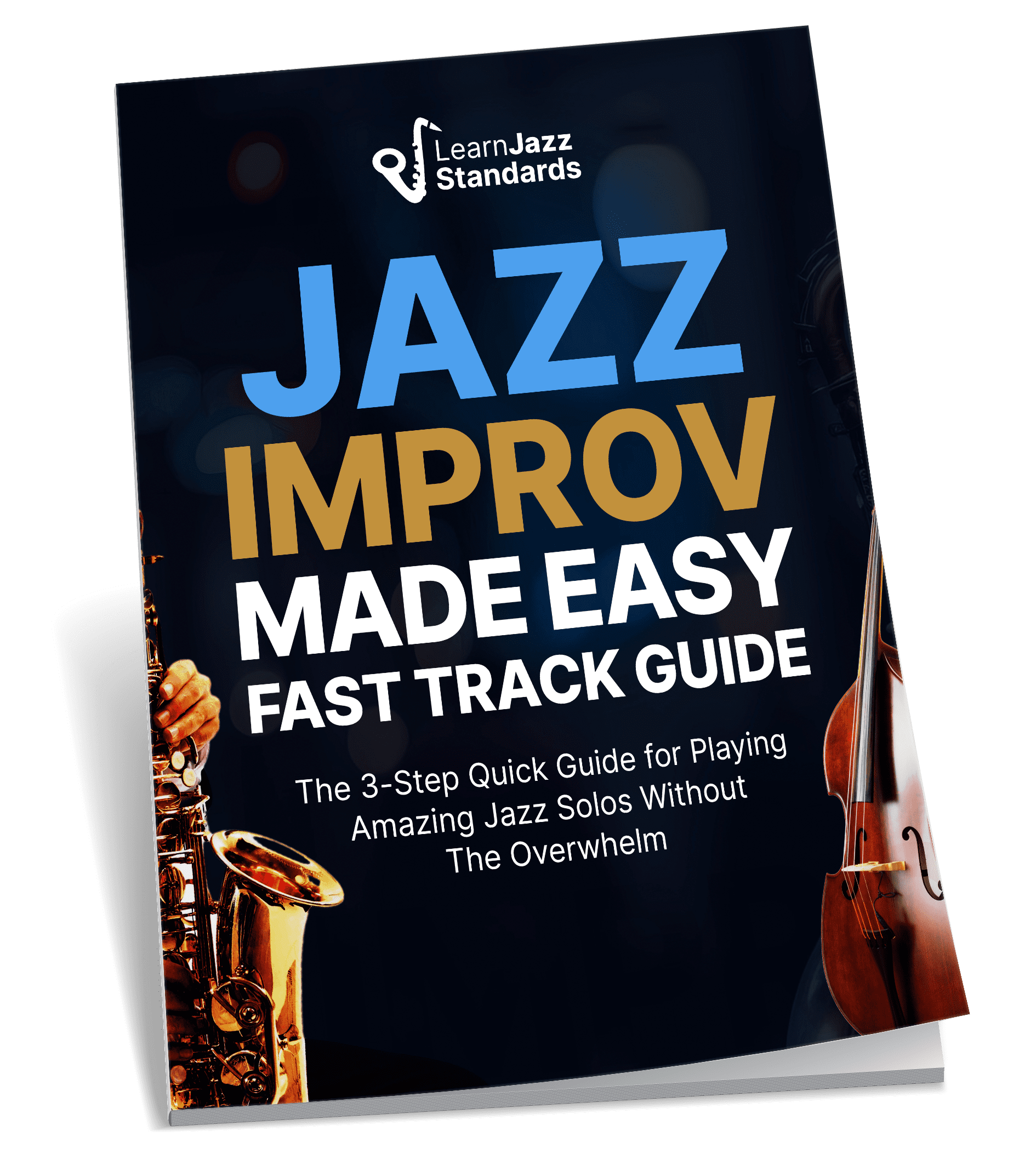 Practicing scales is vital to developing your musicianship, but running the same scales in the same way day in and day out can get boring fast.
Don't fret—we have a solution!
In this article, we'll discuss several ways to practice musical scales that are more engaging, rewarding, and challenging than you might be used to. After all, the goal of practicing scales isn't to perform scales! The goal is to learn the fundamental building blocks of music and use them to make music!
By the end of this article, you'll have a deeper understanding of what scales are and learn strategies for making musical scales you practice way more fun and challenging.
And if you find this content helpful, you should check out the Learn Jazz Standards Inner Circle.
The Inner Circle is designed to help you reach your jazz playing and musicianship goals. With over ten years of workshops, masterclasses, weekly live streams, and various courses, you'll have everything you need to smash through practice plateaus and take your jazz chops to the next level.
Come see what the Inner Circle has to offer.
Table of Contents
What Are Musical Scales (Actually)?
There are several ways you can think about what scales actually are.
A beginner music student might say that a scale is a series or sequence of notes that repeat in both pitch directions until you run out of instrument.
They might think, "Things like melodies and solos use scales, so I need to practice scales to learn melodies and improvise." With this thinking, scales like the major scale are only a means to an end—you need to practice scales so that you can get to the more fun stuff like melodies and solos.
However, this line of thinking limits what scales are and frames them as somehow less than melodies and solos. In reality, scales set the harmonic rules that govern chords, melodies, and solos. At least, they set the framework or stage on which chords, melodies, and solos are played.
See, scales represent a set of pitch relationships that create distinct moods and emotions in listeners. The harmonic minor scale sounds different from the major pentatonic scale because the relationships between each set of notes are different.
We call these sets of pitch relationships pitch environments.
Western music theory features many different types of scales. You have your seven-note scales, like the major scale and its modes, or six-note scales, like the major blues scale and minor blues scales, or five-note scales, like the major pentatonic or minor pentatonic scales.
Then you have other scales like the whole tone scale, diminished scales, and the chromatic scale. Essentially, there are many different pitch environments in which musicians compose and improvise.
Pitch Environments (or Scales vs. Chords vs. Chord-Scales)
It's more useful to see scales and chords as two ways of organizing the same musical "thing." Those musical "things," in this case, are pitch environments.
Scales are one-dimensional ways of representing different pitch environments. At the same time, chords are two-dimensional ways of representing the same pitch environment.
Dimensionality:
One-dimensional means that only one note is happening at a time (scale).
Two-dimensional means more than one note is happening at a time (chords).
When we play a scale, we are accessing a pitch environment in one dimension. When we play a chord scale, we access that pitch environment in two dimensions.
Let's dig a bit deeper into specific pitch environments (or scales) and see how one small change in the musical scale can completely change the character of the pitch environment.
Comparing Pitch Environments
The major scale is a distinct pitch environment from other scales like the melodic minor scale or harmonic minor scale. We can represent the major scale formula in several ways:
In steps: W-W-H-W-W-W-H
By note names: C-D-E-F-G-A-B-C
By intervals related back to the root: unison, major second, major third, perfect fourth, perfect fifth, major sixth, major seventh, octave.

For more on the major scale and its modes, check out our article on musical modes.
Within these intervals that make up the major scale, you have a crazy amount of pitch relationships that are all characteristic of the major scale. You can build diads, triads, and seventh chords out of these many relationships.
Let's explore some of them!
We get diatonic triads when we take the major scale and stack thirds onto each of the seven scale degrees. These are the basic units of harmony in major and minor keys:

If we stack an additional third on each triad, we get diatonic seventh chords in the key of C:

But we aren't limited to thirds only. Let's harmonize this scale in fourths. Quartal harmony, built off of fourths, is commonly used in jazz.

In this way, the major scale itself is a blueprint for all the different pitch relationships you can build out of this pitch environment.
But what happens when we make one small change to the musical scale?
The Melodic Minor Scale (Jazz Minor Scale)
Let's compare the major scale to the jazz minor scale, which is similar to the major scale pitch environment. Still, it has one notable difference—the melodic minor scale has a minor third interval, whereas the major scale has a major third interval.
This one small change makes a big difference.
(Note: we are using the melodic minor scale in the jazz sense, so it doesn't have a different form when descending.)
The melodic minor formula, like the major scale formula, can also be represented by steps, note names, and intervals:
In steps: W-H-W-W-W-W-H
By note names: C-D-Eb-F-G-A-B-C
By intervals related back to the root: unison, major second, minor third, perfect fourth, perfect fifth, major sixth, major seventh, octave.

The change from E to Eb creates a whole new pitch environment that has a distinct musical (and emotional) character. Stacking thirds in melodic minor gives you a different chord scale because of that simple change from E to Eb.
C melodic minor harmonized in triads:

C melodic minor harmonized in seventh chords:

For more on the melodic minor scale, check out our guide to the melodic minor scale.
The Harmonic Minor Scale
The pitch environment (and all the interval relationships) change even further if we change the A natural to an A flat, making it a harmonic minor scale. This is best represented in a seventh-chord chord scale:

Looking back all the way to the C major scale, you can see just how different the harmonic minor pitch environment is by changing only two notes. The tonality is entirely different.
When you start to see scales like this—and not as a means to a musical end—you realize that scales are just one way to organize pitch environments. Once this hits you, you'll see that there are so many different ways to practice scales!
Hopefully, this section has changed your perspective on scales and why you should think of them more like pitch environments rather than a means to a musical end. Within a given seven-note sequence lies an abundance of relationships (dissonances and consonances) that make it unique.
If you struggle to play amazing jazz solos and want to learn the secret strategies the pros are using to improvise, our free guide will get you on the right track.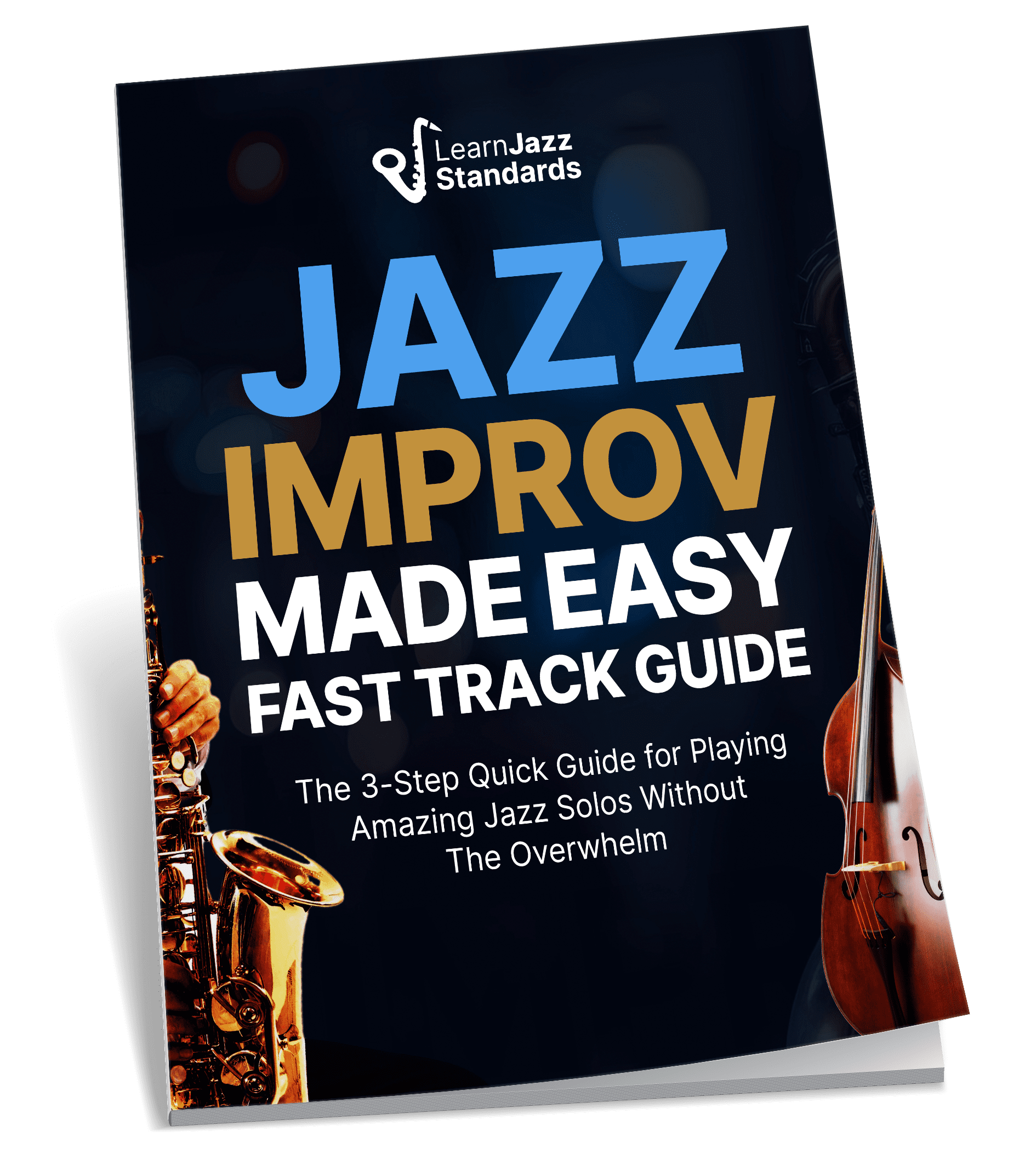 Overhaul The Way You Practice Scales And Make Your Scales More Musical
Now that we have a better understanding of what scales are, we can devise some practice strategies to make practicing major and minor scales more fun and engaging.
1. Think Intervalically
By thinking of scales as one-dimensional ways of accessing pitch environments, we can break out of linear playing. All too often, students will run scales up and down robotically and not actually engage with what they are playing.
Let's try to engage and think about interval patterns we can play through the major scale. This will work on any scale, but we'll stick to the major scale for now.
Major Scale in 3rds

Major Scale in 4ths

Natural Minor Scale in 5ths
Let's switch it up and play the C natural minor scale in 5ths.

Let's continue with minor scales!
Natural Minor Scale in 6ths

Natural Minor Scale in 7ths

This is the beginning of intervallic scale practice. You can apply this concept of playing through scales based on intervals with major scales, minor scales, pentatonic scales, and so much more.
2. Think Rhythmically
Think about how you are approaching the scales rhythmically. Try the following variations:
Start Scales on Upbeats:

Play Scales in Triplets:

Combine 8th Notes and Triplets:

Further Mix Different Rhythms:

Combine Step 1 and Step 2
We took C natural minor and played it in fourths over a triplet rhythm.

3. Add Accents and Other Articulations
Try adding accents, staccato notes, and slurred notes to practice playing scales more musically. Some ideas: accent downbeats, upbeats, and set groupings.
Here are some examples combining different suggestions (using different scales):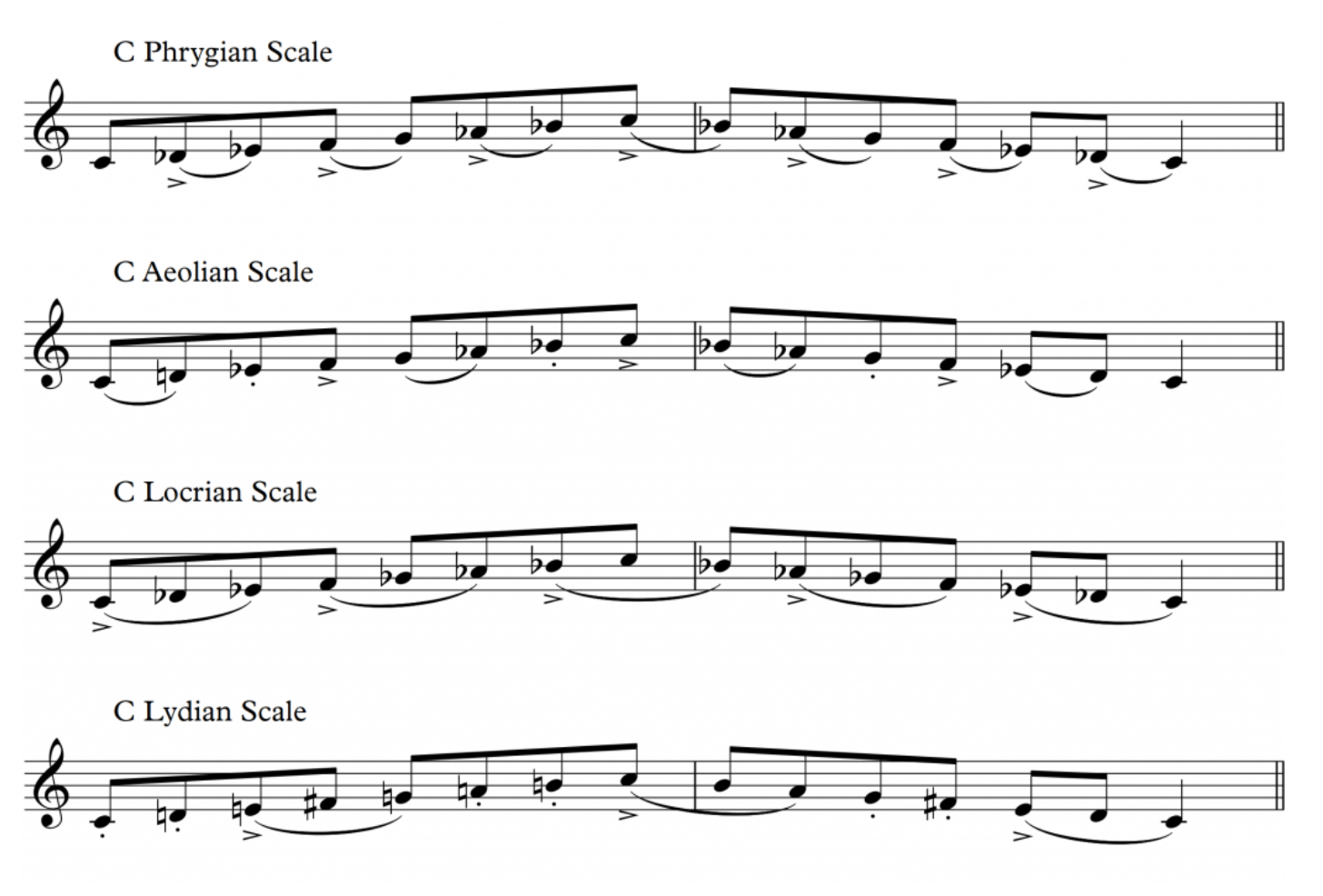 4. Think Dynamically
Another way you can practice musicality in your scales is by thinking dynamically. Can you start the scale off where it's barely audible and crescendo into full volume? Can you start loud and end in barely a whisper?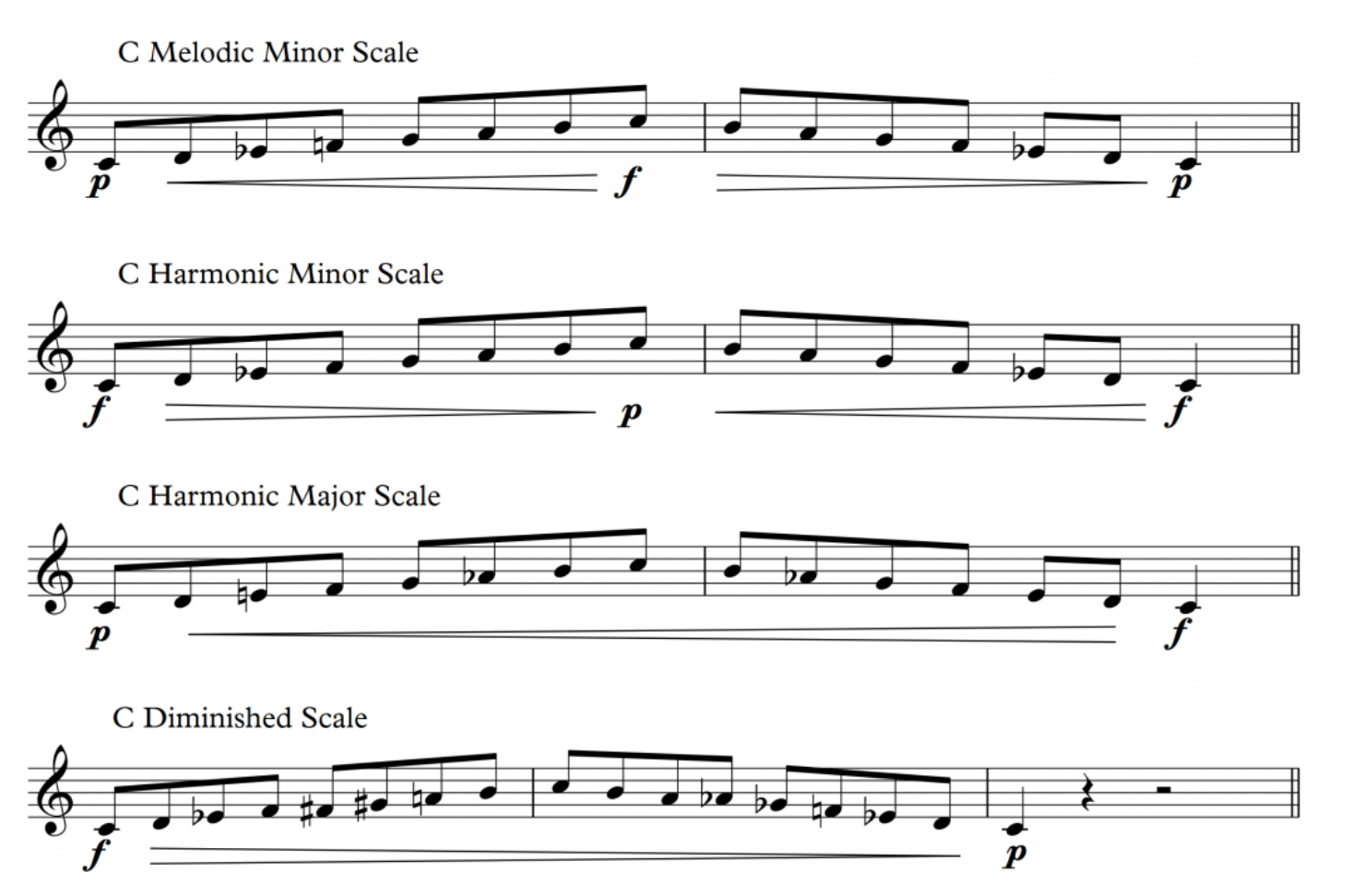 Try combining all these elements when practicing scales.
Think about how different scales can sound when you apply these different parameters. Use these different practice strategies to work on different aspects of musicianship while also practicing scales in novel ways.
Overhaul Your Jazz Chops: Join the Learn Jazz Standards Inner Circle
Are you feeling stuck in your jazz practice routine and need help breaking through to the next level? The Learn Jazz Standards Inner Circle helps jazz players get to the next level and make measurable progress in their jazz playing through the time-tested process of learning jazz standards.
Everything you need to learn the jazz language is contained within jazz standards, and everything you need to learn jazz standards is in the Inner Circle.
From monthly jazz standard deep dives, masterclasses, and workshops to instrument-specific courses on a variety of jazz topics, the Inner Circle will help you break through your practice plateaus and get to the next level.