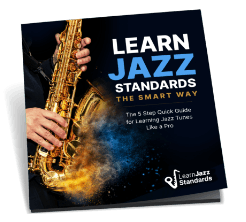 The importance of playing jazz music with other players cannot be understated. That's why you need to attend jazz jam sessions.
I teach online jazz lessons, and one of the first questions I ask my students is, "Are you jamming with anyone?" With video lessons, you can't play with the student, and if they aren't playing with other musicians, they are missing out on perhaps the most important aspect of learning jazz…
…playing jazz with other musicians.
One easy way jazz students can perform music with others is by attending jazz jams—either public or private jazz jams.
This article will discuss the importance of attending jam sessions and networking with other jazz musicians. We'll also provide some actionable tips for preparing for a jam night so you show up to the jam feeling confident and ready to play!
Feeling connected to a jazz community helps you stay motivated on your musical journey.
If you are looking for a supportive jazz community that will hold you accountable, help you grow as a jazz player, and keep you connected to the art form, then you should check out our community, the Learn Jazz Standards Inner Circle.
Come see what the Inner Circle is all about.
Table of Contents
A Brief History of the Jazz Jam Session
Jazz music and its most pivotal innovations were born out of jam sessions.
The history of the jam session is tied directly to the emergence of bebop. Bebop's virtuosic solos and emphasis on the individual's technical and melodic prowess were direct reactions to the restrictive environment many instrumentalists found themselves in while playing in big bands during the swing era.
Musicians began playing for each other during informal gatherings after hours, and an entire musical language emerged. The players would run tunes and practice improvisation in a close and informal setting. They'd compete with one another in competitions called "cutting contests."
These early after-hours jam sessions held for musicians by musicians helped propel jazz into the bebop era and beyond, where the focus was more on the musical abilities and sensitivities of individual performers and their interactions.
This interactive, communicative element is now an essential part of jazz music.
A student's jazz education would not be complete without the communal aspect of playing with other musicians. To become better jazz musicians, we must play with each other and bounce ideas off each other.
This is the essence of jazz music. The idea is you need to be a part of a jazz community. Without this, you are missing out on a huge aspect of being a jazz musician.
10 Reasons Why You Should Attend Jazz Jam Sessions
Growth Through Challenge: Jazz jam sessions will push you out of your comfort zone, accelerating your musical growth and improving your skill level. Try recording your sessions to analyze the positives and the areas that need improvement.
Networking With Professional Musicians: Attending different jam sessions will help you meet fellow players, which can lead to future gigs, collaborations, studio time, or mentorships.
Learn by Observation: Watching experienced players will provide invaluable insights into technique, improvisation, and gig etiquette.
Build Confidence: The more you put yourself out there, the more comfortable you'll become in live performance settings.
Expand Your Repertoire: You'll hear new tunes, standards, and styles you might not have encountered in your personal practice.
Improve Aural/Listening Skills: Jamming helps hone your listening skills, ensuring you respond appropriately in a musical conversation.
Develop Ensemble Skills: Understand how to communicate, cue, stay on the same page, and interact with a rhythm section or horn players.
Practice Being An Adaptable Musician: Every session and every group of players differs. Adaptability is a key skill in jazz.
Improve Your Timefeel: Playing with a live rhythm section will sharpen your sense of timing and groove.
Have Fun!: There's an indescribable feeling when you're grooving with fellow musicians on a tune, and everything just "swings."
But not all jazz jams are made equal. You can reap the benefits of playing with other musicians in different ways. So if a late-night session doesn't work for you and your schedule, there are alternatives.
Different Types of Jam Sessions
When I refer to "jazz jam sessions," I'm referring to the general act of playing jazz with two or more musicians. This could be at a public jam session or a private jam session that you or another musician has set up.
Here's the difference—
Public Jazz Jam Sessions
Public jam sessions are musical get-togethers where musicians from the region can come together to play jazz standards.
Usually, these are held at bars or other venues with live music. However, jam sessions are not limited to bars or local music venues. Public jams can be held at coffee shops, libraries, community centers, and restaurants.
Many cities have one or more weekly public jam sessions. In New York, we have a lot of them. These jam sessions are where the collective jazz community can come together, network, get to know one another, and learn!
Usually, there is a house band that will play an opening set. After this first set, the jam session begins, and players can come up. Sometimes there is a sign-up sheet. Other times, it is as informal as walking up to the stage.
Public jams are open to anyone who can pay the cover (sometimes they are free but usually inexpensive). You don't have to be a player to attend; you can just come to listen.
Private Jazz Jam Sessions
Private jam sessions are not public performances. Usually, you and your friends or musical acquaintances get together to run tunes or original music.
Both of these are important for a jazz musician to partake in.
Think of your local public jam session as attending church on a Sunday or your weekly book club meeting. Think of private jams as simply having a regular social life.
What do sports fans like to do when they get together? Watch sports. What do jazz musicians do when they get together? Play jazz.
If you struggle to learn jazz standards by ear, memorize them, and not get lost in the song form, then our free guide will completely change the way you learn tunes forever.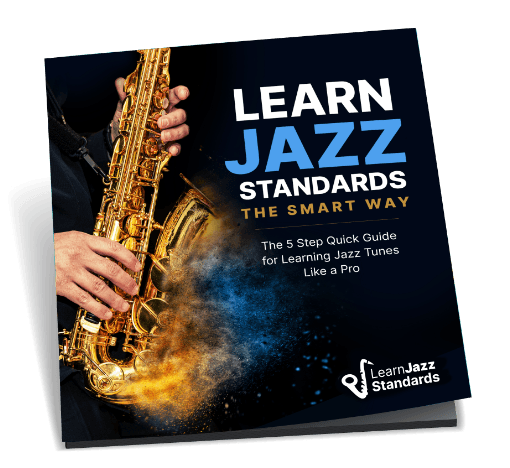 But how do you get prepared for a jazz jam session?
How To Get Prepared For A Jam Night
The most important thing you can do is have a tune list with at least ten songs.
Here is a 10-tune list of songs that get called at jam sessions: Tune List For Jam Sessions.
Knowing means:
You know the melody (even if you'll never play the melody)
You know the harmony (even if you'll never play the chords)
You know the form, so you won't get lost (even if you don't improvise)
You'll want to know several blues heads, ballads, swing tunes, and Latin tunes. You may also hear certain tunes in a different style or genre than they are usually played in. This is part of the fun!
Check out our Jam Session Checklist to ensure you are ready for the next session!
There are more specific things you should consider depending on what instrument you play:
If You Are A Guitarist
If you play guitar, you should check out the house band on social media to see if there is a guitarist (and an amplifier). You don't want to lug your guitar all the way there to discover you can't play it! If there isn't an amplifier, then you'll want to bring your guitar and amp.
It may be a good idea to bring an iPad with iReal Pro or a real book in case you have to play chords for a song you aren't familiar with.
Also, as a common courtesy, bring an instrument cable!
If You Are A Bass Player
Bass is more of a sure thing at a jam session, but (understandably) some bassists might be uncomfortable sharing their $8,000 upright with you. You'll likely want to bring your electric bass or your upright. It never hurts to reach out to house band members via social media and ask.
If You Are A Horn Player
Just show up with your horn!
It's usually that easy.
If You Are A Singer
Jamming at a session isn't only for instrumentalists. If you are a jazz singer, you can also benefit from going to a jam night! Ensure you have a list of tunes with the key you like to sing them in!
This will prevent a lot of on-stage awkwardness for the singer and the band.
Check with the house band to see if you need to bring a microphone. However, if the jam session is public, there will likely be a PA system with a microphone for you.
If You Are A Keyboard Player
There will likely be a house piano if the jam session is at a club. However, this isn't always the case, depending on the type of club. Jam sessions at coffee shops or community centers will likely not have a house piano.
Check with the host, and be ready to bring your keyboard and amplification.
Also, don't be afraid to bring an iPad with iReal Pro just in case you encounter songs you don't know.
If You Play Drums
Like with piano, there will likely be house drums if the session is at a club. You'll want to check with the host, but bringing your own cymbals, hardware, and sticks is usually best. No need to bring your own shells!
Two Common Excuses People Use To Avoid Jam Sessions
"There are no public jazz jams where I live!"
I get it! You may live in a small town or a not-so-metropolitan area. Jazz indeed thrives in bigger cities, and it always has. But I also grew up in a small town, and I know that no matter where you are, a small jazz community is nearby.
In my particular case, I discovered the local jazz teacher in my area who was mentoring many students. Through studying with him, I met his other students. We started getting gigs together, my teacher set up a weekly jam session at a local coffee shop, and the word began to spread.
Before I knew it, a jazz musician community was born!
The key is to find those other musicians and create a community. And yes, I did just put the responsibility on you. Someone has to start these jam sessions, right?
"I don't think I'm good enough to play at a jam session!"
You might be new to jazz and, therefore, might not have the skills to "hang" at a public jam session.
You need to spend your due time in the practice room honing your skills, but that doesn't mean you shouldn't be playing with others at a jazz jam.
Truthfully, you will grow the most when you play with people who are further along on their jazz journey.
Build Your Chops The Right Way. Join The Learn Jazz Standards Inner Circle Community.
If you want to join a jazz community dedicated to self-improvement, self-discovery, and the celebration of all things jazz, then you need to check out our jazz community—The Learn Jazz Standards Inner Circle.
Members receive access to a treasure trove of jazz education resources and join a thriving network of dedicated jazz musicians from all walks of life. If you are looking for a jazz community, you've found it!
What are you waiting for? Come see what the Inner Circle is all about.