What's the best way to absorb jazz language and thrive on your instrument?
That's easy—
By learning jazz songs that contain essential jazz vocabulary!
What are some of the easiest jazz forms we can learn to master jazz vocabulary quickly and efficiently?
That's also easy—
All the different types of jazz blues forms!
The jazz blues is an iconic and (relatively) easy jazz form that contains every essential ingredient you need to become the best jazz player you can be. By learning many jazz blues songs, you'll quickly unlock the essential harmonies, melodic devices, rhythms, and all-around blues attitude you need to succeed in jazz.
So, in this post, we'll explore the different types of blues often found in jazz music, and we'll list 28 important blues heads you should learn if you want to become the best player you can be!
Master Jazz Vocabulary The Right Way. Join The Learn Jazz Standards Inner Circle
The best way to learn a language is to absorb yourself in the culture. Jazz is a language with a large body of material. Learn Jazz Standards knows that the best way to learn jazz is by learning jazz standards (it's in our name).
Jazz standards contain all the information you need to master jazz, no matter what instrument you play. When you join the Learn Jazz Standards Inner Circle, you'll receive access to our archive of jazz standard studies and many other incredible educational resources.
Plus, each month, we add another jazz standard to our long and growing list of essential tunes.
If you are ready to learn jazz the right way, then you need to check out the Inner Circle.
Come see what we're all about.
Table of Contents
Why Learn The Blues?
Simply put, the blues has played a central role in jazz music since the beginning of the genre. The blues is, without a doubt, one of the most important forms in music, let alone jazz music.
Let's briefly simplify the basic elements of jazz:
Syncopated rhythms
Swing feel
The Blues: a musical tradition that evolved out of the religious and work songs of enslaved African Americans.
When you hear a jazz song, you hear the blues in action. Specifically, you are hearing microtonalism at work. The blues tradition uses microtonal notes that fluctuate between the set pitches of standard Western music.
These microtonal notes are colloquially referred to as blue notes. They are an intimate part of jazz melodies and phrasing. The best way to incorporate the blue note into your playing is by learning a bunch of blues tunes.
How Many Different Types or Genres of Jazz Blues Are There? (Different Blues Chord Progressions)
Every jazz musician needs to know several jazz blues heads that cover the range of all blues variations.
By their very nature, jazz musicians like to bend and break the rules that govern form and style. As a result, some jazz blues tunes are hardly recognizable as a blues tunes but are still rooted in some element of the blues, whether in form, harmonic devices, or simply in rhythm or "feel."
Some jazz blues tunes abandon 12 bars entirely, opting for longer forms.
Others tweak or abandon completely the I-IV-V harmony of the traditional blues, opting for different chord progressions.
Some artists change the time signature, opting for a 3/4 or a 6/8 feel.
Others change the rhythm or feel of the blues entirely, leaving behind traditional shuffle and swing rhythms and opting for straight 8ths, Latin feel, or other types of feel.
Before digging into our list, it's important to know a bit about the blues landscape in jazz music. Here are some of the most common jazz blues variations:
Traditional/Simple Blues Form
This is the foundational blues form, primarily using just three chords: the I7, IV7, and V7 chords.
Typical progression: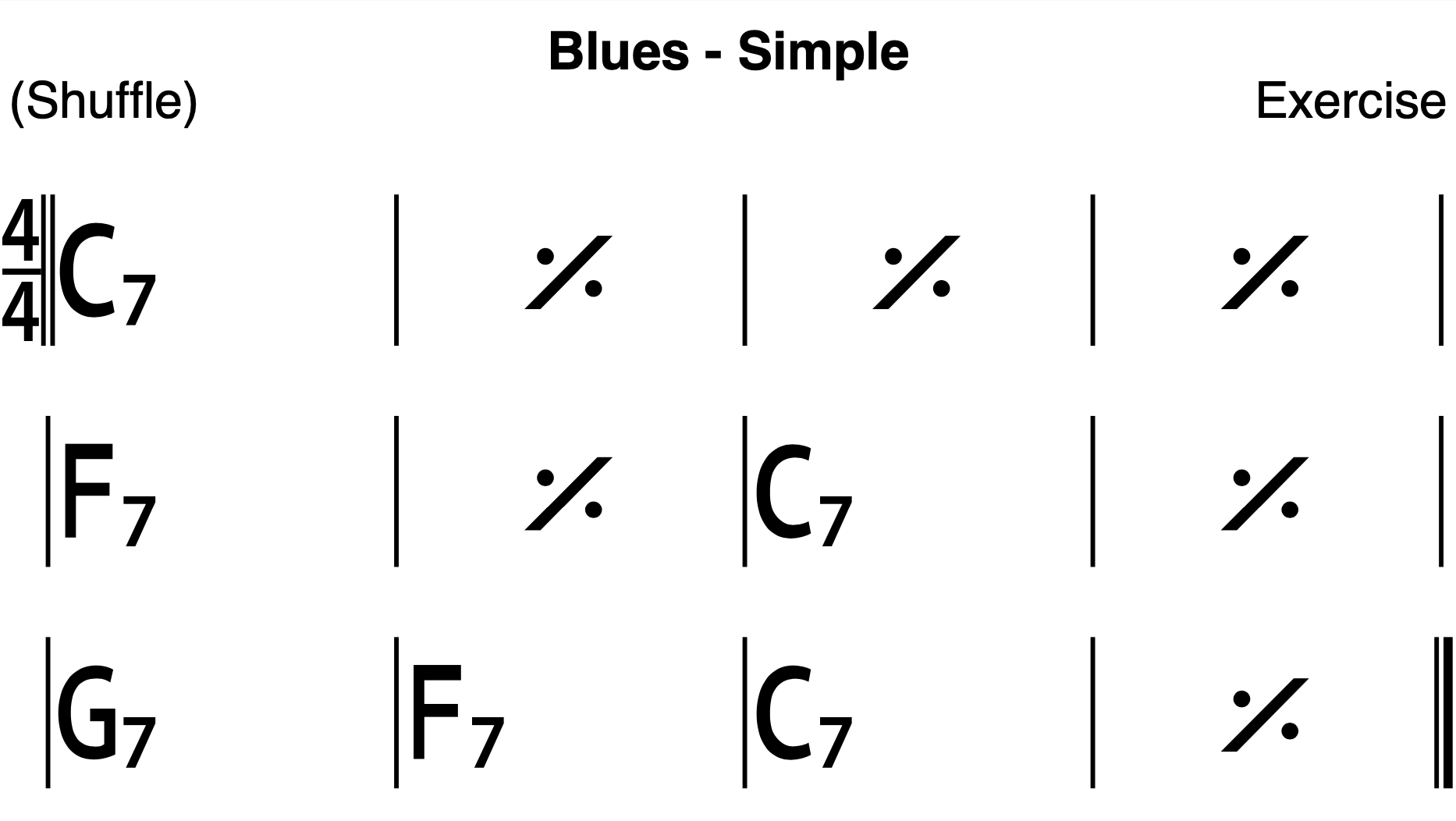 Standard Jazz Blues/Bebop Blues
Adds jazz harmony to the traditional blues form.
It commonly incorporates II-V progressions and substitutions.
Typical progression: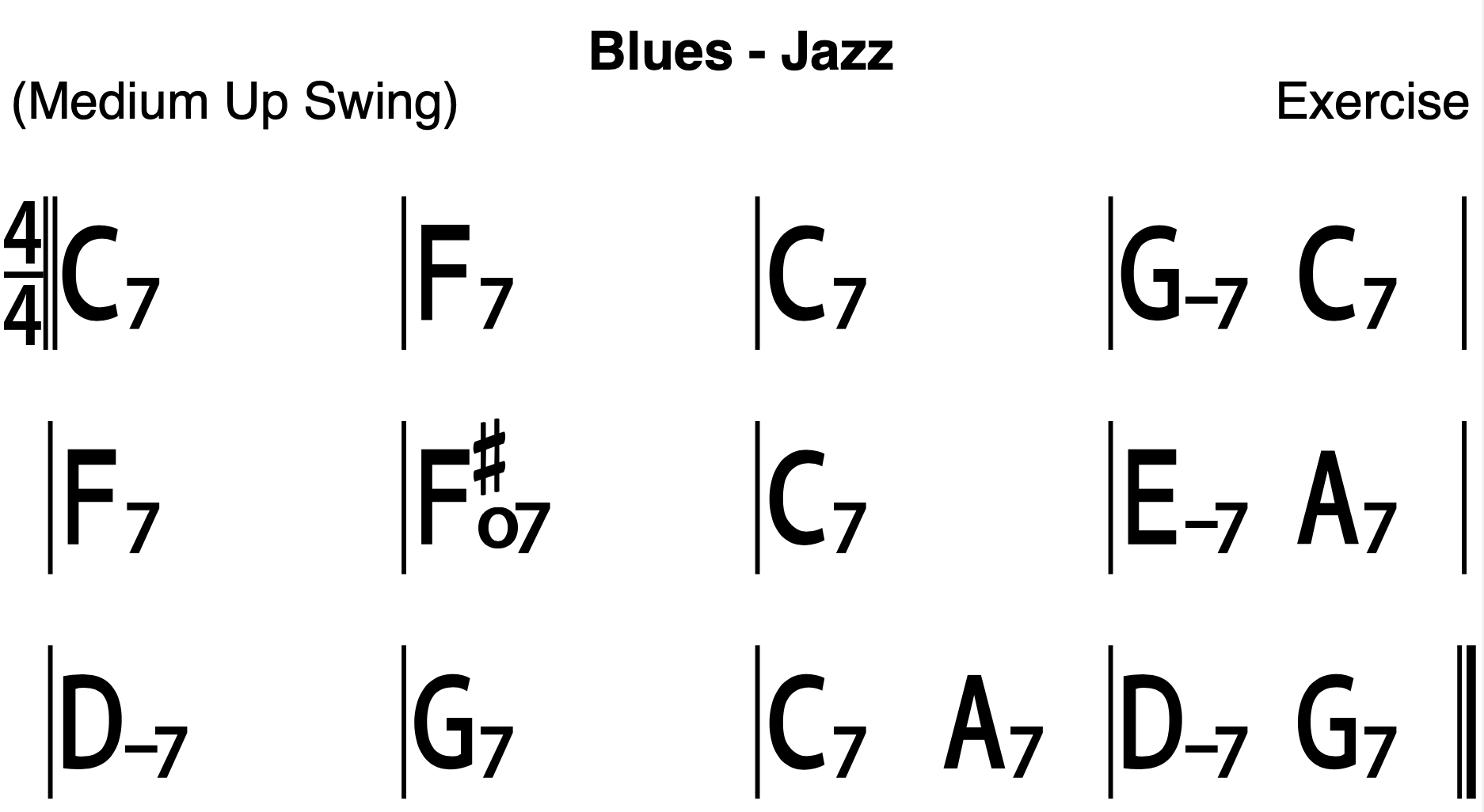 Minor Blues
The minor blues takes the regular blues progression and adopts it to a minor tonality. Essentially, the chords used are often minor 7th chords instead of dominant 7th chords.
Typical progression: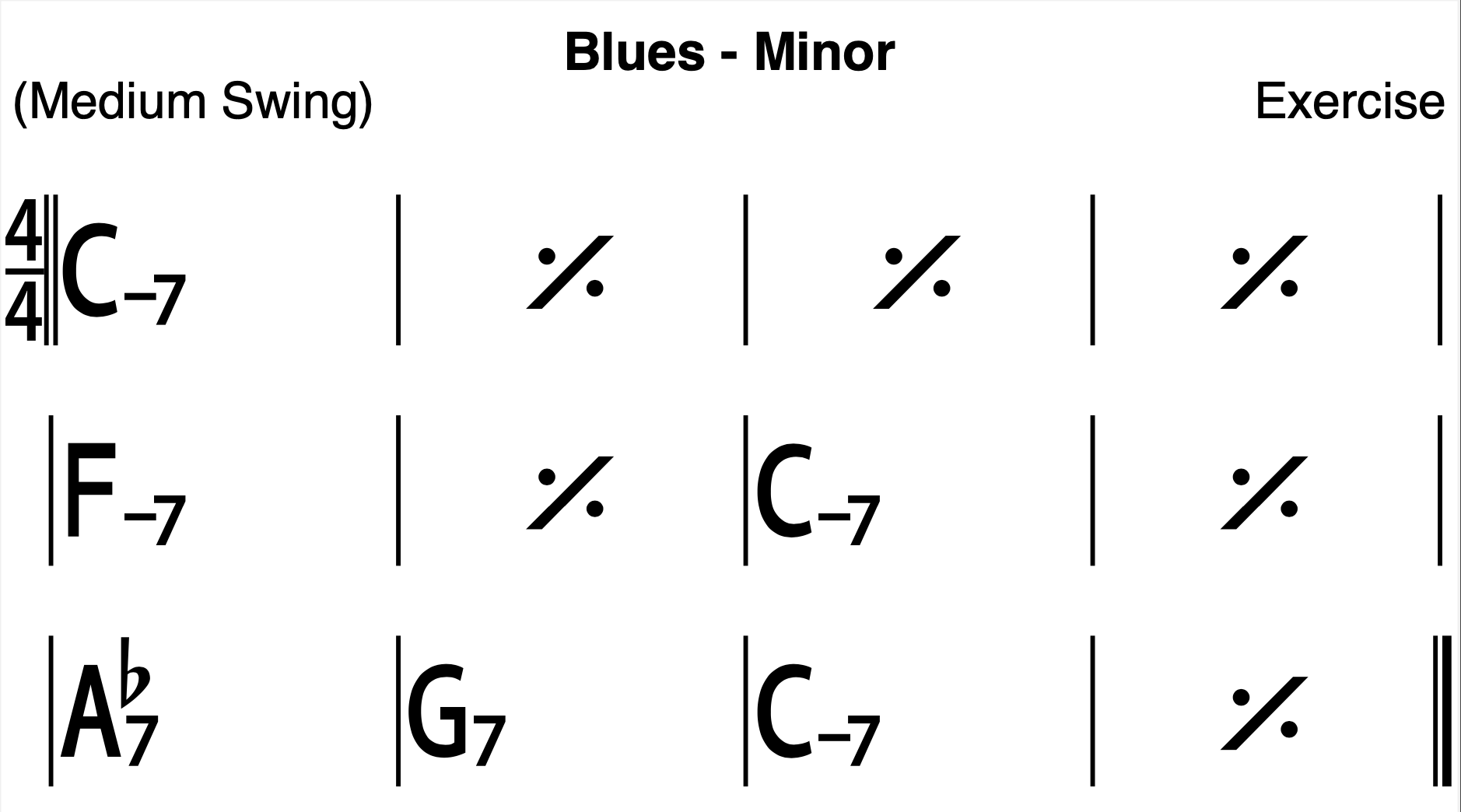 Blues Waltz (Blues in 6/8 or 3/4 Time)
The blues is traditionally in 4/4 time, but jazz musicians like to break the rules! Some jazz musicians play the blues in 3/4 or 6/8 time.
Typical Progression: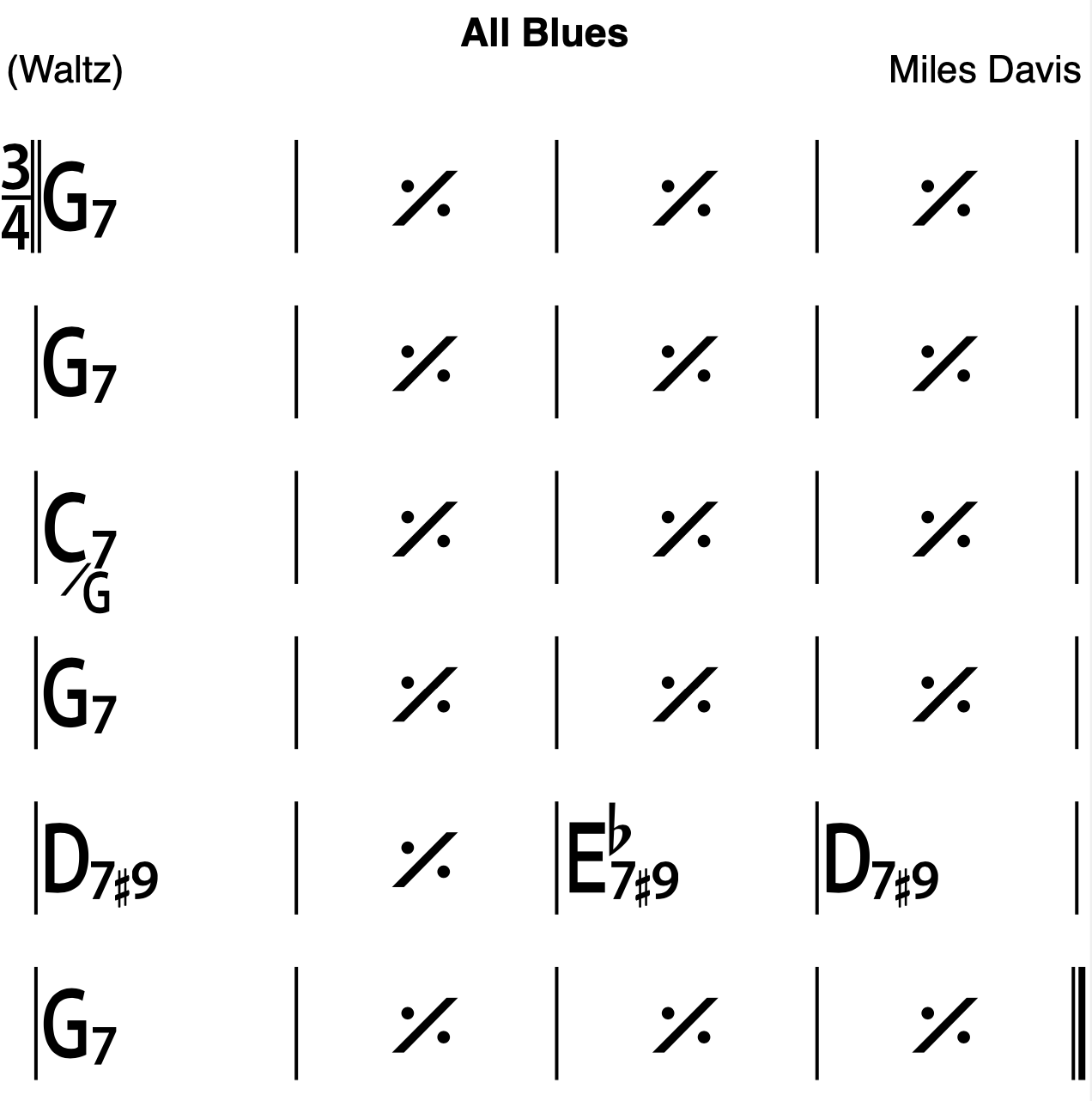 "Bird" Blues:
Named after Charlie "Bird" Parker, this jazz blues form modifies the traditional blues progression with a series of II-V substitutions, creating a harmonically rich environment for bebop musicians to play over.
While retaining a 12-bar structure, the harmonic progression differs significantly from the traditional blues.
Typical Progression: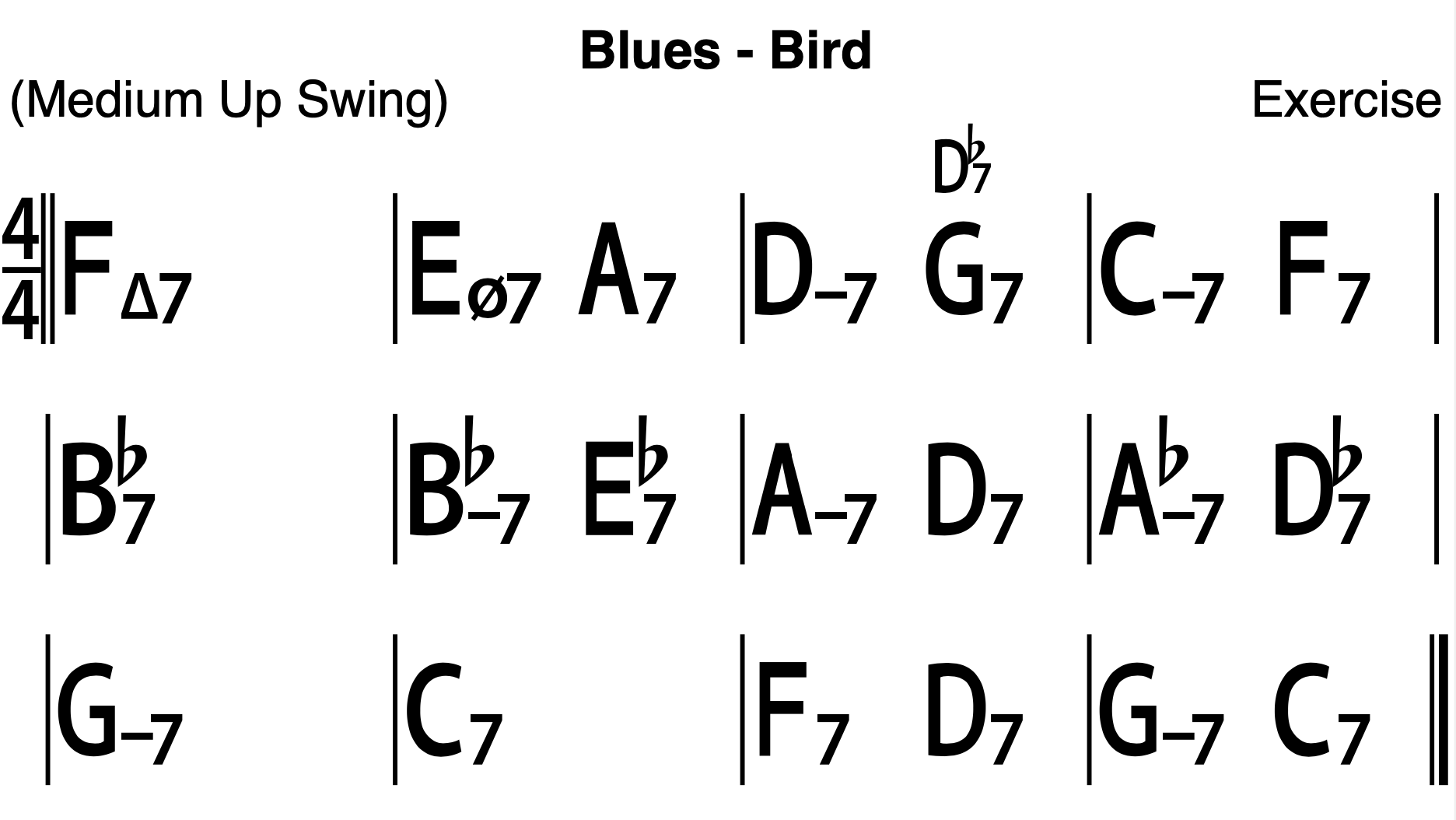 Extended Blues Forms
Some blues tunes don't stick to the standard 12-bar format and may extend to 16 bars, 24 bars, or even longer. These extended forms might repeat certain sections of the standard blues progression or introduce new sections.
Example Progression: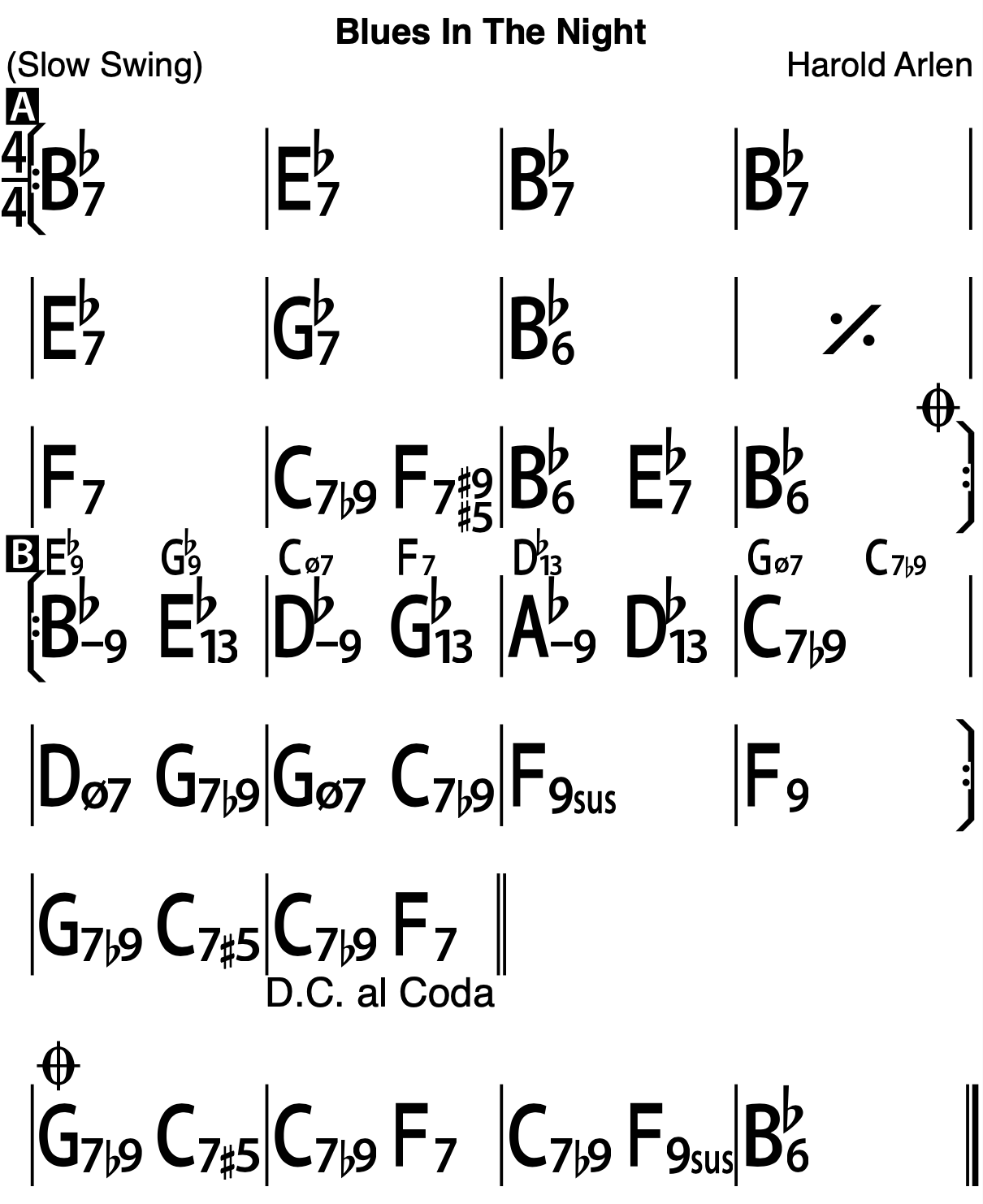 For more on blues chord progressions, check out 4 Blues Chord Progressions To Help You Master The Blues.
Also, to dive deeper into different blues forms, check out this video:
28 Jazz Blues Tunes You Need to Know
The following blues heads are must-knows for jazz musicians, and there are a few reasons why you should learn all of these blues tunes at some point:
Many of these songs are jam session staples, and knowing them might prevent some awkward bandstand interactions!
The melodies of these songs are dripping with incredible jazz language, which you can internalize and incorporate into your own playing.
Despite all the variations in these blue forms, they are generally great vehicles for practicing jazz improvisation, providing you with a clear and easy-to-navigate runway for practicing your jazz solo ideas.
Many different blues heads have become popular among jazz musicians, but this is a great list to help you get started!
Be sure to click through on the links under each entry to play along with these jazz songs.
1. All Blues
All Blues is a jazz blues in 3/4 time with a unique turnaround at the end. It first appeared on the Miles Davis album Kind of Blue.
Composer: Miles Davis
2. Au Privave
Au Privave is a staple bebop blues with an iconic blues melody.
Composed by Charlie Parker
3. Bag's Groove
This is a classic blues song with many great recorded versions. Definitely check out the Miles Davis album Bag's Groove featuring Milt Jackson.
Composed by Milt Jackson
4. Billie's Bounce
Billie's Bounce has many iconic recorded versions, with renditions from great jazz artists like jazz guitarist George Benson and jazz pianists Keith Jarret and Bud Powell.
Composer: Charlie Parker
5. Birk's Works
This minor blues composition has some interesting chord variations that add more harmonic complexity to the form. Despite the harmony being slightly more complicated than a standard minor blues, the melody is simple and iconic.
Composed by Dizzy Gillespie
6. Blue Monk
This is the composition that Thelonius Monk recorded the most and is a quintessential jazz standard. This list has many incredible melodies, but Blue Monk might be the most infectious. The opening theme inspired the beginning of the melody for the Disney song Cruella De Vil.
Composer: Thelonius Monk
7. Blues For Alice
This is the first "bird" blues on our list. The harmonies are different than a standard blues, but the feel, phrasing, and attitude scream blues.
Composer: Charlie Parker
8. Blues In The Closet
Jazz bassist Oscar Pettiford wrote this tune, and it has become a jam session staple.
Composed by Oscar Pettiford
9. C-Jam Blues
I bet you know this tune even if you have never heard it before. This blues head is one of the easiest blues heads you can learn—you only have to play two notes!
Composer: Duke Ellington
10. Cheryl
Charlie Parker recorded "Cheryl" several times, though a well-known recording was made in 1947 with a lineup that included Miles Davis on trumpet, Duke Jordan on piano, Tommy Potter on bass, and Max Roach on drums. Definitely check that one out!
Composed by Charlie Parker
11. Chi Chi
Learning Charlie Parker blues heads will infuse your playing with so much great vocabulary. Chi Chi is another great Parker head you should know.
Composed by Charlie Parker
12. Cool Blues
I bet you are noticing many Charlie Parker tunes on this list. If you didn't understand how influential he was before this article, hopefully, you'll see his influence now! Cool Blues is another simple blues head you ought to know.
Composer: Charlie Parker
13. Equinox
This is a slow minor blues tune by John Coltrane. Its slow tempo allows the players to stretch out over the music and develop their solos.
Composed by John Coltrane
14. Footprints
Footprints is a slow blues in 3/4 written by Wayne Shorter. It features a unique turnaround and an iconic bass line.
Composed by Wayne Shorter
15. Freddie Freeloader
This is another blue from the classic jazz Miles Davis album Kind of Blue. Wynton Kelly's piano solo is full of incredible jazz blues language.
Composed by Miles Davis
16. Freight Trane
Freight Trane is another great example of a "bird" blues. Check out Kenny Burrell and John Coltrane's version of the song on the album aptly named Kenny Burrell and John Coltrane.
Composer: Tommy Flanagan
17. Mr. P.C.
This is a classic minor blues by John Coltrane. The original version features a dizzying solo by Coltrane.
Composer: John Coltrane
18. Now's The Time
Unlike his other jazz blues tunes, Now's the Time features a melody that is fairly simple and repetitive. This is one of Parker's easier blues heads.
Composer: Charlie Parker
19. Relaxin' At Camarillo
If you learn the head of Charlie Parker's Relaxin' at Camarillo, you'll have plenty of incredible material to use for jazz solos. This is another iconic blues you should know.
Composer: Charlie Parker
20. Route 66
This is a classic jazz standard that has seen cross-genre appeal, with many artists from rock and pop creating their own versions of this classic song.
Composer: Bobby Troup
21. Sandu
Sandu has an iconic and catchy jazz blues melody. This is definitely a jam session standard.
Composer: Clifford Brown
22. Sonnymoon For Two
Sonnymoon For Two is a great medium-tempo blues head you ought to learn. Sonny's solo is an incredible example of how to develop a theme when playing a solo.
Composer: Sonny Rollins
23. Straight No Chaser
Another great Thelonius Monk composition! This blues is another iconic jam session jazz standard.
Composer: Thelonius Monk
24. Take The Coltrane
Duke Ellington wrote this classic blues song for John Coltrane.
Composer: Duke Ellington
25. Tenor Madness
This Sonny Rollins composition is the only known recording featuring Sonny and John Coltrane.
26. Things Ain't What They Used To Be
Another Duke Ellington blues, Things Ain't What They Used To Be is a classic, beginner-friendly blues tune.
Composer: Duke Ellington
27. Watermelon Man
This is a 16-bar blues by Herbie Hancock that has an extra four-bar system added to it. In this system, the harmony goes back and forth between the V7 and the IV chord.
Composed by Herbie Hancock
28. West Coast Blues
West Coast Blues is a blues waltz by Wes Montgomery and is an awesome example of the music that came out of the cool jazz era. It's definitely a must-know (especially for guitarists).
Composer: Wes Montgomery
These blues heads contain all the essential ingredients you need to learn the jazz language.
But What's Next?
Try playing a new one every week; that way, after 6 months or so, you'll know all 28!
Something simple you can do to start playing great jazz blues solos right away is to repurpose themes from blues heads and apply them to different parts of the song or to other songs. This is a sure way to improve your jazz solos and get comfortable with playing these ideas in different keys and styles.
Check out this video for more on how to take vocabulary and move it around in different musical contexts.
Dive Headfirst Into The Blues. Join The Learn Jazz Standards Inner Circle
Want a comprehensive and structured approach to learning jazz music?
The Inner Circle helps you grow into the best jazz musician you can be. Whether you play guitar, piano, trumpet, saxophone—or anything—the Inner Circle has abundant resources and instrument-specific courses designed to help you master your instrument and play what you hear.
We also have Jazz Blues Accelerator and Minor Blues Accelerator courses to help you master the blues.