Welcome to episode 46 of the LJS Podcast where today we are talking about how to make extra money from a jazz side hustle. A side hustle is any small business you do on the side from your full-time job that helps you make additional income. If you love jazz and have a passion for it, why not convert some of that to some pocket cash! Find out how. Listen in!
Listen to episode 46
[vc_cta h2="Enjoy listening to this podcast?" h4="If you get value from the LJS Podcast, help us out by leaving a rating and review on iTunes or your favorite podcast service. Thanks for your help!" shape="square" add_button="bottom" btn_title="Rate and Review on iTunes" btn_style="outline" btn_shape="square" btn_color="primary" btn_size="lg" btn_i_icon_fontawesome="fa fa-credit-card-alt" btn_add_icon="true" btn_link="url:https%3A%2F%2Fitunes.apple.com%2Fus%2Fpodcast%2Flearn-jazz-standards%2Fid1094870430%3Fmt%3D2%26ls%3D1|||" el_class="podcast_call"][/vc_cta]
In this episode
What is a side hustle?

Switching your mentality from hobbyist to side hustle. Think like a business person by looking for opportunities and being an entrepreneur.

Main revenue stream categories: Live performance and education.

Why starting a jazz side hustle is good for your jazz playing even outside of making money.
Subscribe and Leave a Rating and Review!
Listen to episode 45: Should I Go to College For Jazz?
Mentioned in the show
30 Days to Better Jazz Playing eCourse
A 30-day audio eCourse that walks you through focused, goal-oriented practicing, where you will be working on things that actually improve your jazz playing.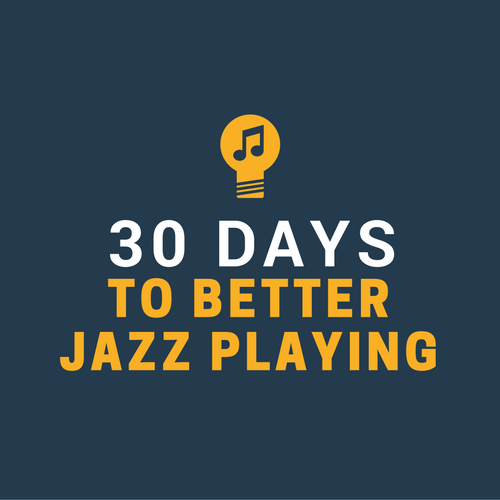 Do you have a jazz side hustle? Leave us a comment below.