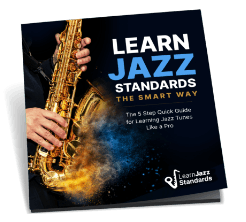 One of the most important things for a jazz musician (or any musician) to develop is their ears. Improvisation requires the ability to create melodic and rhythmic ideas on the fly, and in order to do this, we need to be able to hear the music we are trying to create. If we can't hear melodic information in our heads, it's going to be hard to improvise melodies right?
A jazz context especially demands good ears. Jazz is all about interaction and responding to the musical environment at hand. Perhaps the soloist begins to outline some alternate chord changes, and the band may want to follow accordingly.
Or perhaps the pianist just played a dominant 7(#11) chord and the soloist may want to respond to that. Or a musician may be the only one not to know a particular tune at a jam session, and will have to learn it on the spot. These are just a few examples, of how having great ears is important as a jazz musician.
There are some very practical and applicable ways to improve your ears in a jazz context, such as learning solos by ear, or learning jazz standards by ear. These are highly important practices, however, at the end of the day we need to be working on the fundamentals of ear training.
Fundamentals are pivotal to success at anything, whether it be fundamentals of your instrument, or in this case, ear training. One of the most basic (but important) fundamentals of ear training is interval recognition.
What do I mean by interval recognition? You need to be able to recognize by ear when you hear a major 3rd, a perfect 4th, or a minor 6th interval…etc. Interval of course means, the difference between two pitches.
Take the interval test
So what are all of the possible intervals?
Minor 2nd, Major 2nd, Minor 3rd, Major 3rd, Perfect 4th, Tritone (b5 from the root), Perfect 5th, Minor 6th, Major 6th, Minor 7th, Major 7th, Octave.
But it goes even further than that. We need to be able to recognize what these different intervals sound like going up in pitch from the original note (root) and down in pitch from the original note.
Ultimately, this comes down to memorization. As you know from simply being a human, memorizing is either done by lots of repetition, or you can use associations to help you memorize, like songs.
So are you ready to take the interval test?
Let's see how you do! Below are audio examples of all of the different types of intervals. Keep in mind the root notes will change.
In other words, the first note played is the root, and the second note will define the interval. We will also separate intervals that move higher in pitch from the root note (up) from those that go lower in pitch (down). They have been shuffled up so that they are in no particular order.
Write down your answers as you go along. When you are finished, click the Get Answers button at the bottom to see how you did. )
If you did take the test, leave a comment in the comment section below with how many you got right (ex. 15/24).
Ready, set, go!
Going Up
1.
2.
3.
4.
5.
6.
7.
8.
9.
10.
11.
12.
Going Down
1.
2.
3.
4.
5.
6.
7.
8.
9.
10.
11.
12.
How did you do? Remember to post your results in the comments section below.
If you are unhappy with your score and feel like you need to work on your interval ear training, all is not lost!
Our free "Ultimate Ear Training Blueprint and Video Training Series" will help you get headed in the right direction, as well as help you with recognizing chords and chord progressions.
Go ahead and click the button below and I'll email it to you right away!