THE JAZZ STANDARDS PLAYBOOK VOL. 2
10 Jazz Standard Studies That Will Ignite Your Jazz Improv
Let's take a deep dive into 10 jazz standards that will expand your knowledge of jazz harmony and take your jazz skills to the next level.
If jazz standards (especially more complicated ones) seem difficult to you, no need to worry, we're here to help walk you through them step-by-step.
"The Jazz Standards Book demystifies the workings of making music without making it seem like too much work. I have been woodshedding for forty years and learned more in my first week with this course than I thought possible."
Sure, you know some jazz standards. You may even have some basic jazz harmony and improv skills. But if you're really being honest, half of the time you have no clue what you are doing.
I know how you feel, and many others are in the same boat as well. That's why I'm here to help make jazz standards less complicated…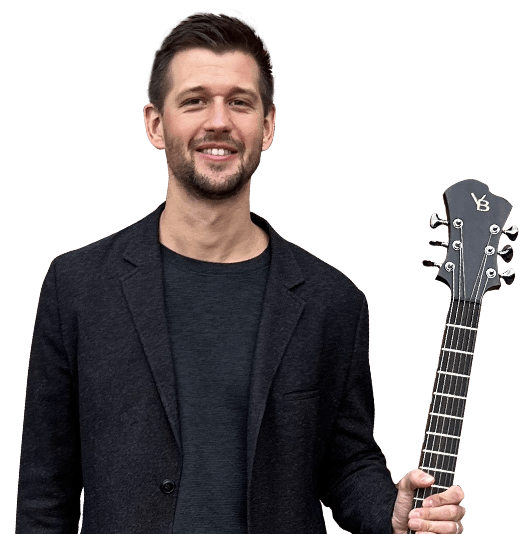 Hey! My name is Brent Vaartstra. I'm a professional jazz musician, author, and entrepreneur. I wrote The Jazz Standards Playbook Vol. 2 because my students, readers and podcast listeners often wonder how to approach jazz standards.
In Vol. 1, I went over 10 jazz standards that addressed the fundamentals of jazz harmony. In Vol. 2, we take a look at another set of 10 jazz standards that go deeper into jazz harmony.
The Jazz Standards Playbook Vol. 2 walks you through in-depth studies of jazz standards that both address the fundamentals and explore more complex jazz harmony. I make understanding these important jazz standards easier.
How to analyze jazz standards with roman numerals. So you can understand the chord changes.
Key improvisational concepts. Using 10 brand new improv lessons based on the studies.
The 3 jazz theory concepts that will help you unlock these standards. So that you're set up for success.
Key harmonic lessons in jazz standards. So that every other tune is 10X easier to understand.
195-page pdf eBook full of jazz lessons
Audio examples and backing tracks
Tons of exercises and examples
There Will Never Be Another You
Someday My Prince Will Come
Tune Up
Just Friends
Take the A Train
Days of Wine and Roses
Alone Together
Solar
What Is This Thing Called Love?
The Girl From Ipanema
HERE'S WHAT PEOPLE ARE SAYING ABOUT THE JAZZ STANDARDS PLAYBOOK:
Brent in his newest publication achieves freshness, rigor, and making learning appealing and attractive. The layout of the e-book is beyond delight. In Brent's masterful, sereine, and yet rigorously structured lessons there is no place for loftiness. And so he says: "I want you to take action". And at the same time, he assures the student that "I'm not going to leave you hanging". Great achievement, Brent! Thank you for this gift!"
"I purchased the Learn Jazz Standards Playbook together with the video course. I really like the training approach in this material! I'm learning the theory behind the songs, how the chords are constructed and how they relate together. It is fun and challenging to learn. Furthermore, the extra video course is really motivating to keep you going and practicing. Thanks, Brent!"
"Thanks, Brent! You have a great approach to teaching this stuff, very inspirational and explained in a clear and logical fashion. The challenges are difficult enough to get me practicing but not overwhelming. Keep up the good work!"
GET ACCESS TO THE JAZZ STANDARDS PLAYBOOK VOL. 2
BY SELECTING AN OPTION BELOW
INNER CIRCLE MEMBERSHIP
$39

USD/MO

$390

USD/YR

EBOOK ONLY
$39

USD

The Jazz Standards Playbook Vol. 2 Ebook

The Jazz Standards Playbook Vol. 2 Video Companion Course

Monthly new jazz standard studies

Entire library of jazz courses

Instrument Accelerator courses for guitar, piano, sax, trumpet, bass

Monthly live Q&A sessions

Community forums and support

JOIN NOW

BUY NOW
We know you've worked hard for your money, and it can feel like a lot to "risk" it on a jazz membership that promises big results. We get it, and since we are so confident you will love the Inner Circle when you give it a try, we are willing to take the risk completely out of the equation for you and put it on us.
THE "NO QUESTIONS ASKED" 30-DAY RISK-FREE GUARANTEE:
We are happy to offer a 30-day money-back guarantee from the time of your purchase. If you want to cancel your membership and get a refund, send us an email, and we will give your money back – no questions asked (we'll even eat the credit card fees). We'll kindly thank you for giving us a try, no hard feelings.
THE "CANCEL ANYTIME" GUARANTEE:
We promise that we do not make it hard to cancel your membership (we respect you as a human and a customer). If at any time you want to cancel your membership, you can easily do so in your account, or send us an email, and we will do it for you. We don't ever want you to pay for something you are not using.
HERE'S WHAT OUR AMAZING STUDENTS SAY
"Before joining The Inner Circle, I didn't know how to even begin to play jazz solos. Once I joined the Inner Circle, it gave me a starting place. It gave me little baby steps that I could start taking toward this huge goal, and I am feeling so much more confident now. I have a plan, and it's really giving me the opportunity to have more freedom in my playing. I highly recommend The Inner Circle to anybody who is stuck and wants to get unstuck in their jazz solos!"
"Since joining the Inner Circle, I have received amazing instruction that has helped me in my practice routines and overall playing! What I like is that it is not only for one specific instrument, but helps one's overall musicianship and confidence in playing jazz with other musicians. I personally feel that it far exceeds other jazz courses and memberships out there. Highly recommend!"
"Before I joined the Inner Circle, I had tried a lot of things for playing jazz. But it really wasn't until I joined the Inner Circle that things started clicking! I am radically improved even in one year of being in the Inner Circle. It's a great value as well. Literally for only the price of half of a lesson, you get all the material you could ever imagine. I highly recommend it and thumbs up!