Need Help With Jazz Practicing? I Can Help!
Make no mistake, the most important thing you can do for your jazz playing is to learn how to practice the right things effectively. You can waste so much of your time if you don't have a plan and are working on things that won't make a big difference. Here are my top resources for crushing it in the practice room!
Step 1: Get My Free Guide
How and what you practice can literally make or break the speed in which you achieve jazz success. So what do you need to practice, how should you practice, how long, and how often?

My "Ultimate Jazz Guide to Practicing" has been downloaded by over 50,000+ people, and serves as a perfect guide to help you get started in the right direction.
Step 2: Join My Online Course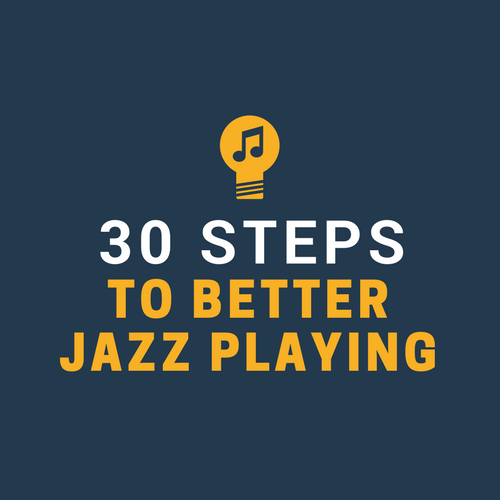 If you're serious about improving your jazz skills and are ready to dive in to some intensive training, consider my flagship practice program "30 Steps to Better Jazz Playing."

This course takes you through 30 steps of focused, goal-oriented practicing where you will be working on the things that will make a big difference in your jazz playing. Hundreds and hundreds of students have gone through this program and have gotten massive results.
Step #3: Browse My Top Free Lessons
These are some of my most popular videos and podcast episodes to help you with your jazz practicing.