Have you ever wanted to improve your solo chops on the guitar?  Do you ever feel limited by your lack of fretboard knowledge, especially higher on the neck?  Have you ever wanted to connect the different positions on the guitar together in a cohesive way?  If so, then the CAGED system may be a great way for you to expand your ability to solo on the guitar.
Why CAGED?
In a nutshell, CAGED Scales are one way of exploring all the regions of the neck of the guitar.  The system breaks down each region of the neck into an easy-to-navigate scale in one position.  CAGED Scales are movable (by sliding the shape up or down frets), and can be used in any key.  While the positions change between different keys (i.e., where your hand starts, whether it be higher or lower on the neck), the shape of the scale does not change.   You can memorize 5 scale patterns that are each good in all 12 major keys.  Also the relationships between regions of the neck within each respective key do not change (C Form and A form start on the same note, but with a different finger, etc.)
Aren't There Other Ways of Understanding the Neck?
CAGED Scales are not the only way to navigate the neck of the guitar, and not all guitarists use it.  However, it is certainly one viable option.  The CAGED system opens up many possibilities on the neck of the guitar.  It is the method I use to teach my guitar students when they are first learning to solo.  I'll open up other possibilities for them later after they effectively use this method.  After a student learns one of the CAGED forms, I like to IMMEDIATELY have them start playing little melodies like Mary Had a Little Lamb using the scale forms.  This solidifies their knowledge of the scale and helps set up a foundation for using these scales to improvise.
What is CAGED?
The CAGED system of scales for the guitar is based around these 5 chords:

The theory is that each of these chords (C, A, G, E, D) has a scale position that naturally emerges from the chord.  Not all of the scales are actually playable in first position with open strings, as sometimes these scales involve notes on fret negative one or two (which don't exist; you can't play a note lower than an opening string without going to a lower pitched string).  However, from this theory emerges a system that really helps us understand the neck of the guitar.
Here is a diagram which details how we derive a scale from each of these 5 chords (some of the scales are unusable, as I have said):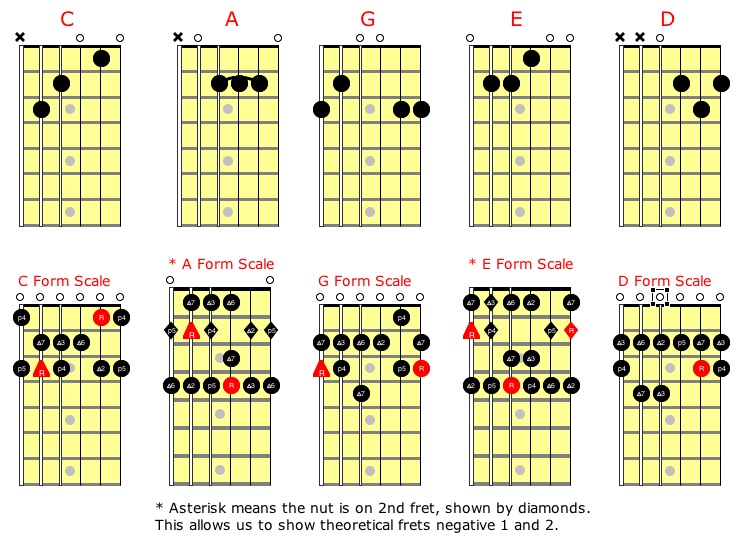 How Do I Practice CAGED Scales?
Now you know that CAGED scales are derived from first position chords with open strings.  Let's start applying the theory.   Here is the CAGED system as applied to C Major: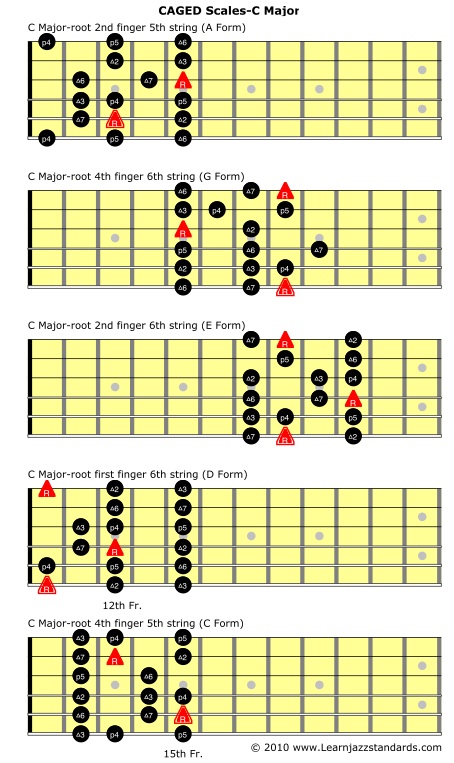 To practice these scales (once they get out of first position and become a REAL, usable, movable scale rather than a theory), start on the triangle note (the root), climb up in pitch all the way, go in reverse ALL the way down past your starting note as far as you can go, then climb back up to your starting note (root).
The nice thing about these CAGED Scales as I have written them is that none of these forms shift out of  position.  However, several of these CAGED forms have a finger stretch with finger 1 (index finger) or finger 4 (ring finger) of the left hand.  This is NOT the same as a position shift; on the guitar, each position is measured by a four-fret region, which the first finger on the fret marking the position.  For example, if you're in 5th position, your first finger will be responsible for the 5th fret, your second has the 6th fret, your third finger has the 7th fret, and your fourth finger has the 8th fret.   Fingers 1 and 4 can stretch one fret each.  Because of this, each position can actually cover 6 frets, even though you only have 4 fingers to use. In the 5th position example, finger 1 can stretch from from 5 to fret 4, and finger 4 can stretch from fret 8 to fret 9.  As long as fingers 2 and 3 stay over fret 6 and 7, you would still be in 5th position.
The Beauty of CAGED Scales-C Form is Always Next to A Form, etc.
Notice that the positions for CAGED in C gradually move up the neck, and are ordered AGEDC (which is CAGED starting in a different place).  Assuming there is enough room on the fretboard (without running into open strings or running out of frets on the high end), C Form is always close to A Form, which is close to G form, which is close to E form, which is close to D form, which is close to C form…irrespective of what key you happen to be in.  This is part of the beauty of the CAGED system!  If you slide forward or backward a position or two, you'll be in the next scale form forward or backward a letter in the word CAGED!  This is represented by the following diagram:
This relationship applies to any key, not just C Major.  Another way of stating the previous paragraph is that A Form won't always be the lowest  form  on the neck without open strings, as it is in the key of C.  However, in another key G Form will still be in between A and E forms, A form will be in between C and G forms, etc.  CAGED is not just a good word with the correct letters for all of those chords; CAGED represents the order of which scale shapes (Forms) are adjacent to other scale shapes, regardless of the key.
Good luck practicing CAGED.  Remember, to fully learn this system, you must practice playing melodies and improvising within each scale form!  This will ultimately free you up to use much more of the neck.  Eventually, you will learn to connect the scales freely.