August 28, 2010 in Jazz Standards, Learning Jazz
This is the last post in a two week series on the blues in all keys. Here is a list of blues tunes you can learn. Have fun with them! Most of them can be practiced with the play alongs on the other posts in the series.
One of my favorite things I've ever done at a gig is going back and forth playing blues heads. I was playing piano, and my friend Jake VanPaepeghem played guitar. We just played as many blues heads as we could think of, one after the next, until we ran out! It was spontaneous and very fun for us as well as the audience.  It became kind of a competition between us; we made a game out of it!
This is a list I've compiled. I'd like to help the guys and gals from the All About Jazz forum for helping me with the list, as well as guitarist Bruce Forman. I've included a list of website I consulted at the bottom of the page.
These tunes are mostly jazz tunes, but I compiled the list from other lists, and I left on a few rock tunes as well.  Enjoy!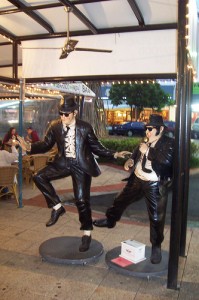 From http://www.flickr.com/photos/heyjoewhereyougoingwiththatguninyourhand
/59196376/sizes/m/in/photostream/
You could spend years working on learning this list. I have no intention of putting all of these tunes up on Learn Jazz Standards, but I gave you the blues in all keys, so that should be good enough to practice most of these heads!  Some of the tunes on the list will not work very well with the play alongs.  Good luck.
The List of Blues Tunes
Sandu
Tenor Madness
C Jam Blues
Sonnymoon for Two
Things Ain't What They Used to Be
Watermelon Man
Mr. P.C.
Stolen Moments
Straight No Chaser
Blue Monk
Pfrancing (also known as No Blues)
Walkin'
Blues in the Closet
Turnaround
Comin' Home baby
All Right, Ok, You Win
Ool ya coo
Route 66
Billy's Bounce
The thrill is gone (B.B. King)
Searchin' for a woman
Israel
Blues on the Corner
Blues Connotation
3 Degrees East, 3 Degrees West
Things Ain't What They Used to Be
Chitlins con Carne
Now's the Time
Blues for Alice
Relaxin' at Camarillo
Au Private
Blues Walk
Blues March
Cool Blues
Teenie's Blues
Twisted
Dance of the Infidels
Mr. PC
Five Spot After Dark
Bag's Groove
Birk's Works
Blues by Five
Blues for Stephanie (John Clayton)
Cookin' at the Continental
Blowin' the Blues Away
Senor Blues
The Jodie Grind
All Blues
Doodlin'
Cedar's Blues
Bemsha Swing
Green Onions
Freddie the Freeloader
Night Train
Footprints
Buzzy (Charlie Parker)
Blue Train
Afro Blue
Bessie's Blues
Equinox
Back at the Chicken Shack
The Chicken
Mustang Sally (24 bar blues)
Stolen Moments
One for Daddy'O
Jumpin' with Symphony Sid
Barbados
Cheryl
Sippin' at Bells (Miles Davis)
Speedball (Lee Morgan)
Twisted
Decision
Red Top
Wee Dot
Bessie's Blues
Chasin' the Trane
Filthy McNasty
Eye of the Hurricane
Yabada Ool Ya (Dizzy Gillespie)
C.C. Rider
Gingerbread Boy
Spontaneous Combustion
Dig Dis
Blue Bolivar Blues
Royal Garden Blues
T-Bone Shuffle
St. Louis Blues
Stormy Monday
Sweet Home Chicago
I'm Tore Down
Hoochie Coochie Man
Memphis Blues
Pine Top Boogie
Red House (Jimi Hendrix's only 12-bar blues)
Pride and Joy
Black Coffee
Mr. Day
H+H
Go Get It
Mohawk
Parker's Mood
Bloomdido
Vierd Blues
Nutville
Chi Chi
Bluesy songs that capture the essence of the blues (but in my opinion, not the blues)
The Preacher
Work Song
Moanin'
This is the end of the 2 week series on the Blues in All Keys.  Each other post has the blues in one key, including a pdf of the changes and a play along recording.  Here are the other posts in this series (Click the title to view each post):

Blues in Bb
Blues in B
Blues in C
Blues in Db
Blues in D
Blues in Eb
Blues in E
Blues in F
Blues in Gb
Blues in G
Blues in Ab
Blues in A
Consulted Sites:
http://www.mikeoutram.com/2009/12/blues-in-all-major-and-minor-keys/ (VERY COOL!)
http://forums.allaboutjazz.com/showthread.php?t=45749
http://forums.allaboutjazz.com/showthread.php?t=29521
http://forum.saxontheweb.net/archive/index.php/t-13652.html
http://digitaldreamdoor.nutsie.com/pages/best_bluesong.html
http://digitaldreamdoor.nutsie.com/pages/best_bluesong.html
http://www.musicwithease.com/the-blues-fake-bk-list.html
No related posts.
Related posts brought to you by Yet Another Related Posts Plugin.